About the Photographers
Toni Bailey and Mike Dubnoff team up to provide you with the ultimate San Francisco City Hall wedding experience. In addition to the amazing wedding photography they offer, their goal is to always make the day fun for both of you! With over 200 San Francisco City Hall weddings photographed, Toni and Mike know the best spots in the building and the time of the day to take you there. Their combined Wedding Photography experience spans well over 35 years, providing you with comfort and confidence that you have chosen the right team to photograph your San Francisco City Hall wedding. Their easy going style will help you feel comfortable in front of the camera. They create memories to last a lifetime! For brief bios of Toni and Mike, please click on the links below.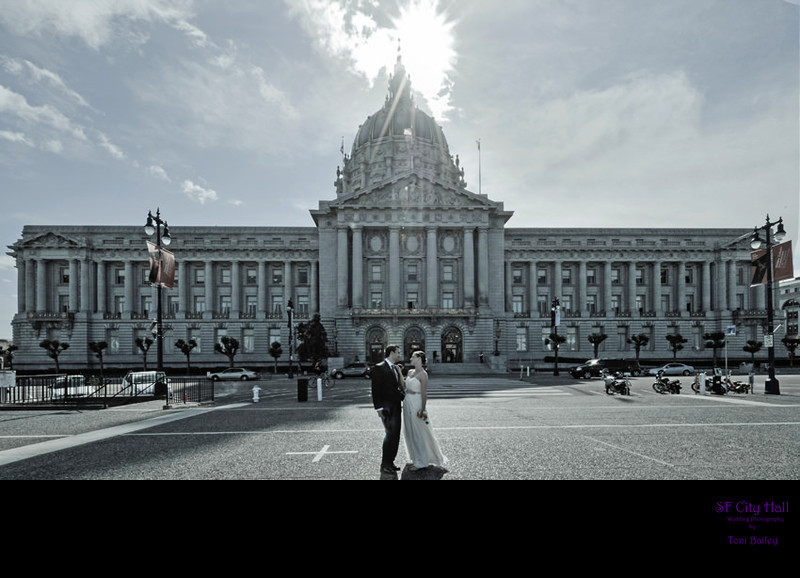 City Hall Lighting

Everyone talks about the beautiful light at San Francisco City Hall and we love it too. The 3rd and 4th floors can provide absolutely beautiful window light which enhances the building's architecture even more. Capturing this light takes practice and the experience that comes with our 200+ weddings photographed at this venue. We know what time of the day to take our couples to the various parts of the building for best light. On foggy days when the light is not as good, we bring in our own professional lighting equipment. We use a large umbrella on a tripod for soft light. We also use bounce flash off of the neutral marble walls for diffused warm light.

Photography Style

We provide our clients a combination of different styles ranging from Traditional to Photojournalistic. Our goal is to emphasize the style that fits our clients. We discuss in advance the types of shots our San Francisco city hall clients want and tailor our photographic coverage to their preferences. Some clients like more posed shots while others simply want us to follow them around the building and take candid shots. Our versatility and experience allows us to accomplish both in a creative and romantic way!

Equipment We Use

Both Mike and Toni shoot with Nikon cameras. We come to every city hall wedding equipped with our Nikon D4s, D800, D800e, D7100 and a full range of back-up gear. We believe in using Nikkor fast prime lenses for their speed and sharpness. Some of the lenses we most often use include: 20mm/1.8, 24mm/2.8, 35mm/1.4, 50mm 1.4, 85mm/1.4 and a 180mm/2.8. We also use zoom lenses when needed for their versatility and reach.
Return to Home Page

Please click here for our privacy policy