San Francisco Wedding Blog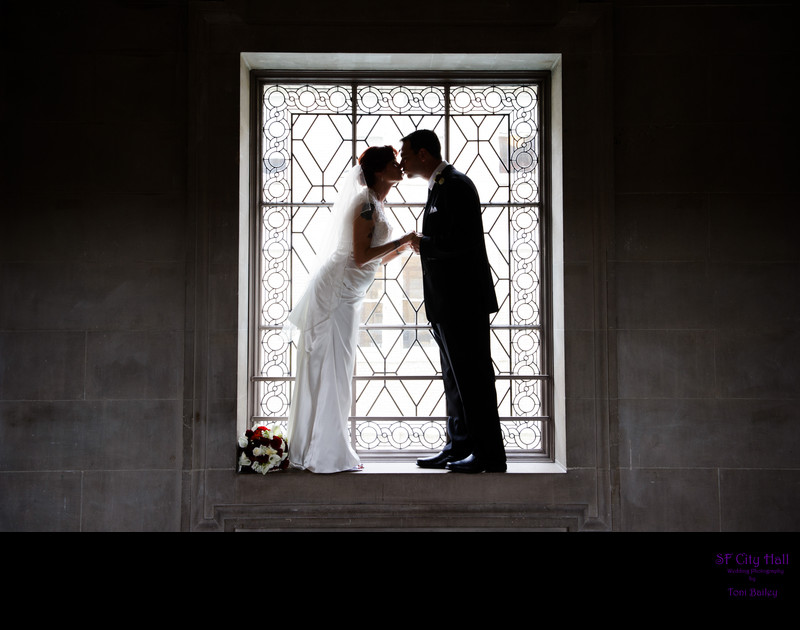 It was so much fun photographing Robyn and Jeff's marriage. They had a beautiful civil ceremony surrounded by family and friends and then we toured around the building to capture romantic shots. Then it was on to California Street where we took a whole series of iconic Cable Car photos. It's hard to imagine a more fantastic setting to top off their wedding day. Thanks to Robyn and Jeff for one of our best times in San Francisco. The photograph below was one of our favorites. We even got a thrill ride through San Francisco in their Friend's Tesla!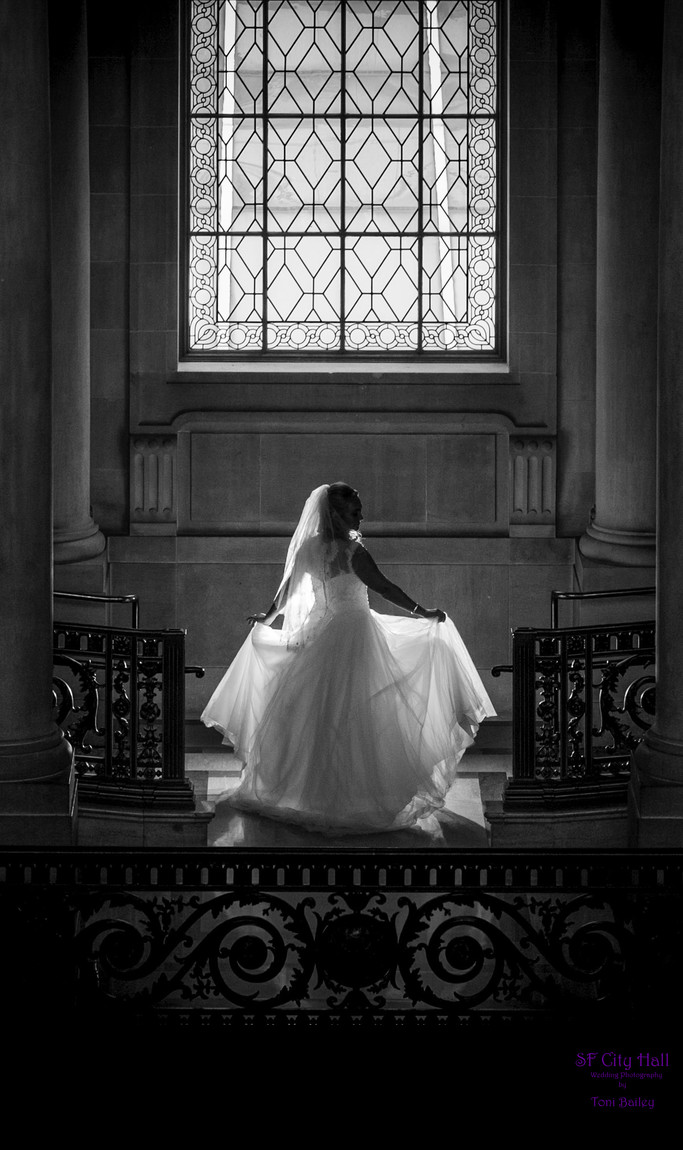 Nadya and Leo were a romantic couple and booked us for our popular yet affordable San Francisco City Hall wedding photography tour package. The photo above left was taken with a Fish-Eye lens and actually shows the dome of City Hall which is straight above. The upper right photo was taken clear across the building by using a radio slaved flash behind the bride to provide this dramatic look. Toni created the beautiful pose and Nadya did the rest!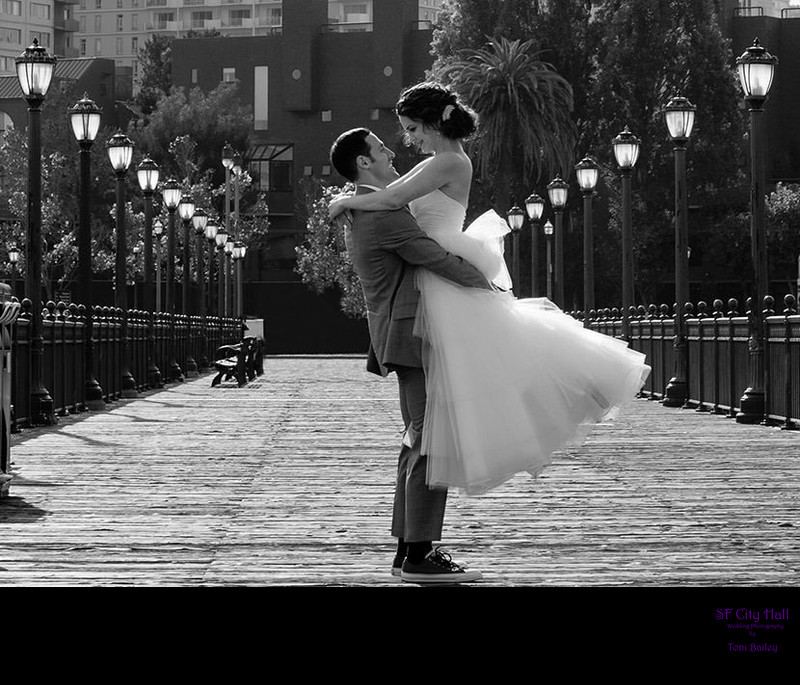 Sara and Pete took advantage of our extended City Hall photo coverage package and booked us for a full day wedding shoot. We started at San Francisco City Hall and ended up on a Horn Blower yacht, cruising around the SF Bay. Pictured here at Pier 7 before boarding the party boat, Sara and Pete were a fun couple and were up for anything we suggested. When photographing weddings in the San Francisco downtown area you often have to be patient and wait for the right moment when less people are present in the background. Photoshop is sometimes needed at this very popular area.


The grand staircase is a beautiful wedding photography location in the late afternoon especially if there aren't too many people milling around. To add to the drama of this shot, we back-lit Laura and Robert with a speed light. Notice the natural golden highlights on the stairs themselves. The staircase at City Hall is probably one of the top indoor locations for wedding photography in San Francisco. The same couple is pictured below with Laura in front of city hall's 3rd floor window illuminated by beautiful natural light. We also used an umbrella flash to fill in some of the shadows.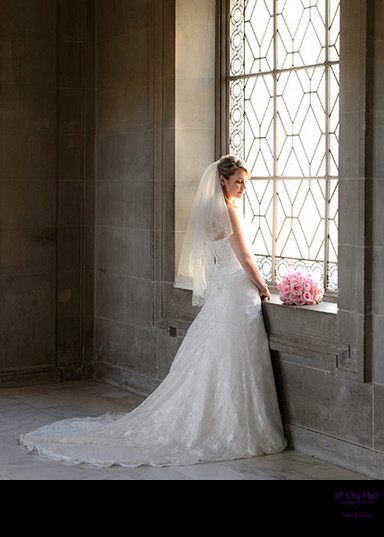 Bobby and Maria were a very romantic couple and we had a wonderful time taking them around SF City Hall. They brought their families with them to the ceremony so we made sure to capture some group shots of everyone together for this special occasion! If you plan on bringing a large number of guests to your San Francisco City Hall wedding, we suggest you book our City Hall Friends and Family Package which provides 1.5 hour of coverage and allows extra time for family and friend photos, but still offers an inexpensive price of $795. Bobby and Maria photos are below.
| | |
| --- | --- |
| | |


Michelle and David booked our "City Hall" wedding photography package which provides 1 hour of coverage and includes interior and exterior photos of the building. We also provided them full coverage of the ceremony. I love the natural light present for this window shot of Michelle. All of our clients receive a combination of color, black & white, and sepia tone images as you can see on this page. For the photo on the left, we used a radio slaved remote flash unit and placed it behind the subject to light up the veil and add drama to the shot.
| | |
| --- | --- |
| | |
We loved Phoebe's wedding dress and decided it would look great to have her run through the halls of the Legion of Honor (below). We always try to provide each of our bridal celebrants with their own unique images. Obviously, we receive lots of requests for many of the classic poses and locations that are seen on our web page, but it's also important to make every bride and groom's wedding pictures special. We are also quick to ask our clients if they have any preferences for locations and poses at San Francisco city hall or anywhere else.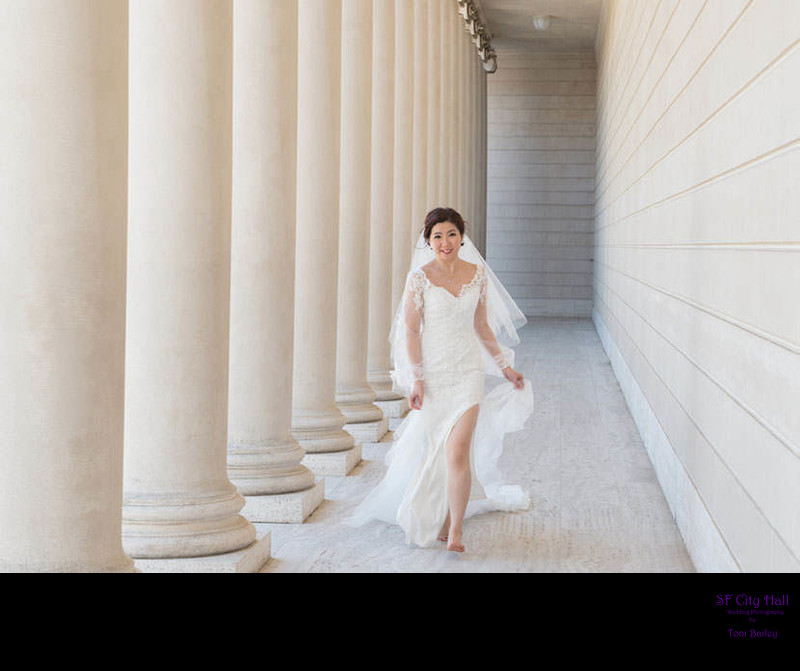 Our "San Francisco" wedding photography package 4 hours of coverage and an exciting tour of SF. The photo below is an example of the types of photos we like to shoot when we take our couple out on the town! We will visit the Golden Gate Bridge, Palace of Fine Arts, The Legion of Honor, Russian Hill, Coit Tower or the Japanese Tea Gardens to name just a few. We even supply your transportation and can suggest some of our favorite spots if you aren't sure! The photo above was taken on California Street very close to Market. You can see the 101 California building in the background. Our couple was able to jump on and allow us take a quick photo.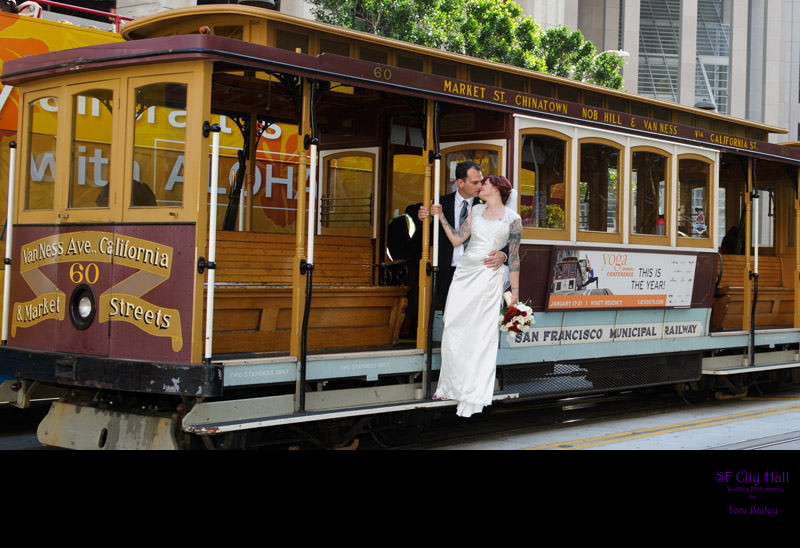 We really enjoyed photographing George and John. They wanted to get some shots in other parts of the city after we finished at SF City Hall. We are all very grateful that Same-Sex / Gay-Lesbian weddings are finally legal in California. I heard from George recently and he told me that they still look at their photos on a regular basis, bringing back fond memories. It was a beautiful day at the Palace of Fine Arts in San Francisco (below).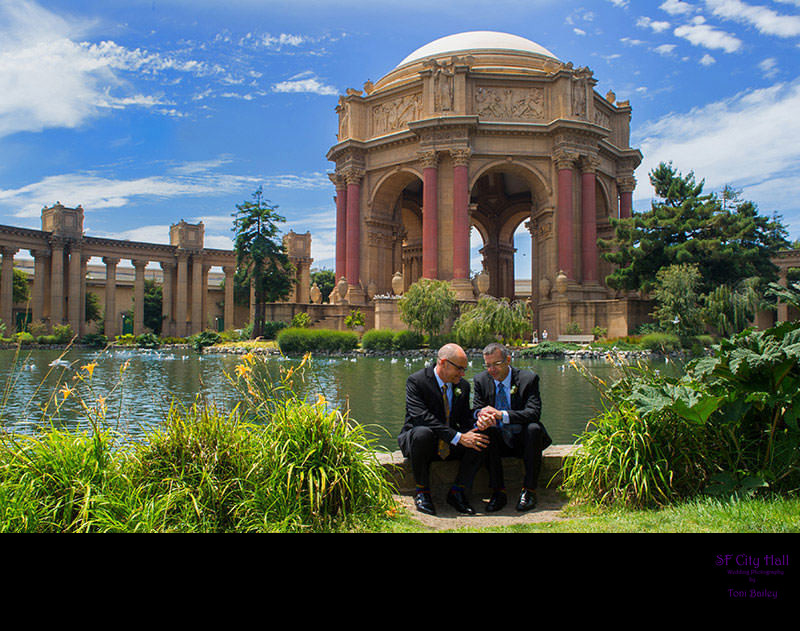 Emma and Steve came all the way from Australia to get married at San Francisco City Hall. We took them all over town for photos, but this 4th Floor North Gallery window image was one of their favorites. Many couples come from all over the world to have their nuptials in this amazing building. Emma and Steve were another couple that mentioned to us that the building architecture was important to them. We always combine wide angle shots like the one pictured below, but also include close-up images to highlight the couple. We provide all of our City Hall couples a combination of different styles and angles to choose from. We also show them samples of Black and White and Sepia tone shots.
The couple below appear to be jumping over the Golden Gate Bridge as they complete their San Francisco photography tour at Crissy Field. We have a number of great locations in San Francisco area to take our wedding couples after their City Hall wedding is complete. Crissy Field is definitely one of our favorites, but let us know yours!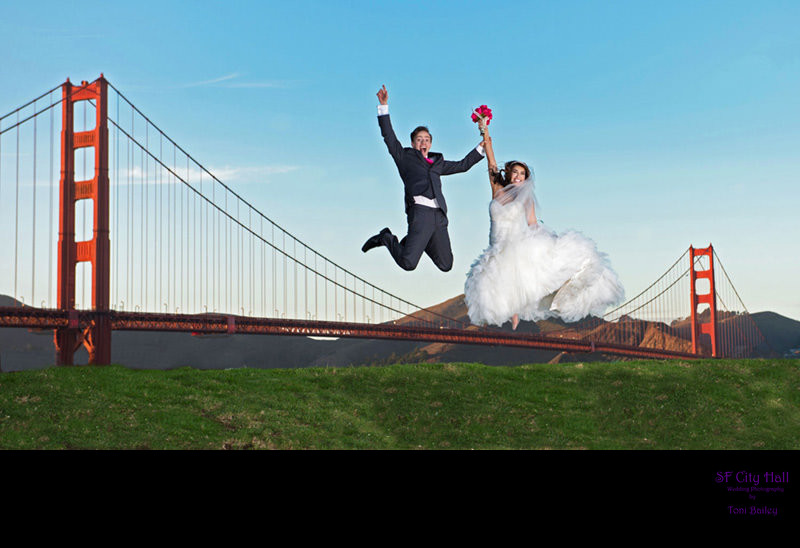 Vanessa and Matthew decided to rent out the 4th floor balcony so they could have a private ceremony with their friends and relatives. It was a beautiful wedding in the perfect location. After the ceremony, we took the 2 of them on a private photo tour of the building! Sometimes the best images are created by just leaving the couple alone for a while to interact (as seen in the shot on the right below).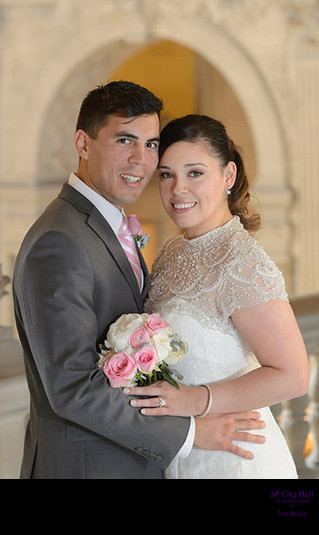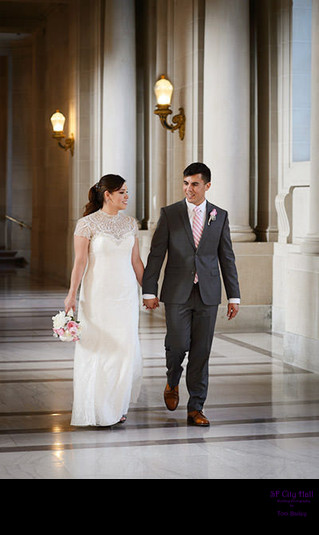 Ken and Pat loved the architecture of this great venue and we made sure to capture it for them. We often ask our couples to tell us the types of photos they would like at City Hall. To be a successful San Francisco City Hall wedding photographer, it's important to listen to your clients and incorporate their preferences. Love the rainbow socks!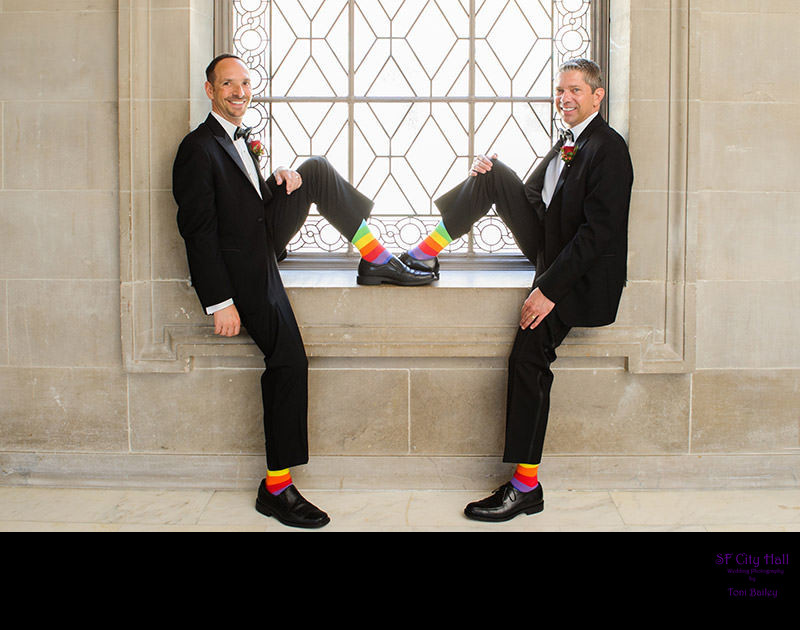 We had a great time with Genevieve and Matt shooting their December nuptials. They told us that it was important to them that we capture the architecture of this beautiful SF building. This was definitely one of our top five weddings of the year. Genevieve has been nice enough to send us 2 wedding photography referrals, both of which we booked! They also provided us with one of our first 5 star Yelp reviews on our new City Hall wedding photography Yelp Site!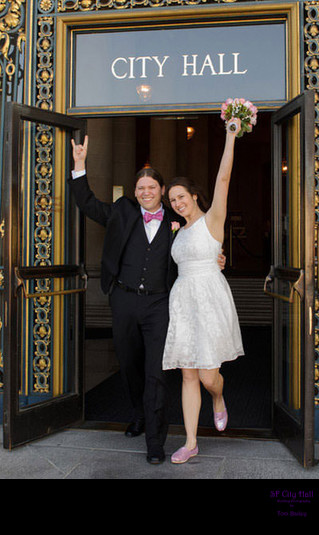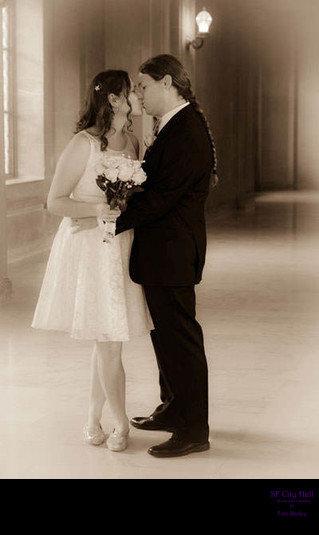 April and Michael booked our "San Francisco" package with optional wedding reception coverage. They hired a private wedding celebrant and had their ceremony on the beautiful 4th floor balcony. After some shots around the building it was on to the Palace of Fine Arts to take some of the photos you see below. We ended our day at their downtown San Francisco wedding reception location.

Same-sex couple Laura and Annette were very happy to marry after being together for over 20 years. It was a great day of celebration and fun with their children and friends. Thanks to both of them for allowing us to be part of their special marriage day. Please see below for their photos.
Nick and Ashley were a fun loving couple and really seemed to enjoy touring around San Francisco City Hall posing for photos. Both of them were very natural in front of the camera and so easy to photograph. After our trip around the building we headed off to the Legion of Honor and then to Lincoln Park Golf Course to get some Golden Gate Bridge photos and candid shots.Then they brought out the Champagne! They brought some of their friends along and we all had a great time celebrating their wedding. This type of coverage is available with our 4-hour Package, we even include comfortable transportation at no additional charge.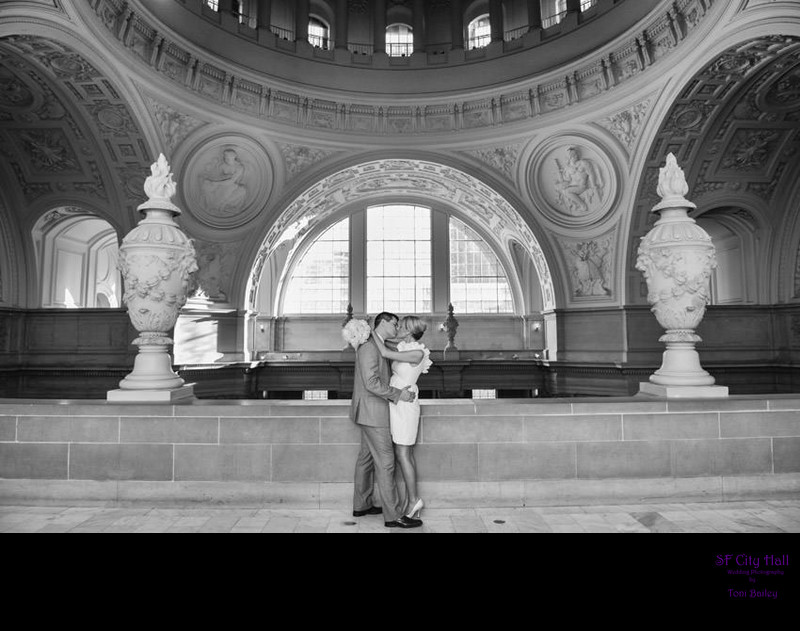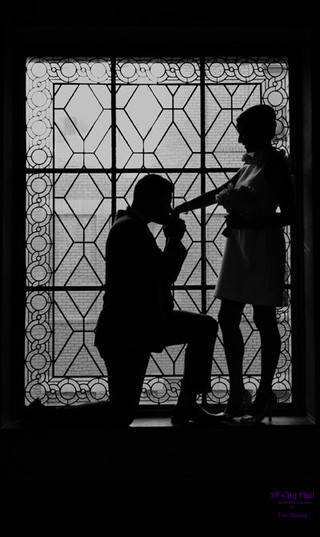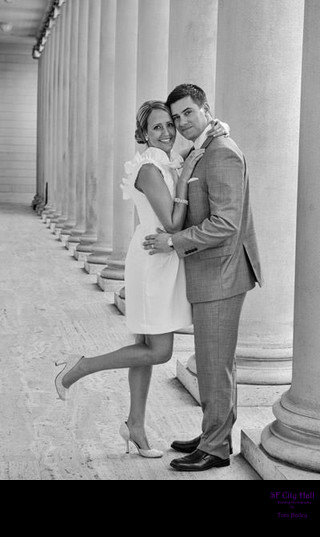 Check out our newest Photo Galleries! Also see our Same-Sex Weddings!