Romantic Wedding Photography City Hall
Romantic photos on your wedding day are always memorable. To create this photo we used our off camera lighting to highlight the bride's veil. We did this by strategically placing the flash off to the left and bouncing it off the wall. You can barely see the effect of the light because it is indirect. No harsh lighting, but it still gets the job done. The groom looked lovingly upon his bride and we captured this photo right at that moment. The couple absolutely loved this romantic photo and as you can see, the brides veil figures prominently in the wedding picture. As San Francisco city hall wedding photographers, we feel it is our duty to make sure that the bride's dress is displayed in a dramatic fashion. Brides take a lot of time and care to choose the perfect wedding gown and so we need to make sure that of the details can be seen in many of the final images the couple will receive.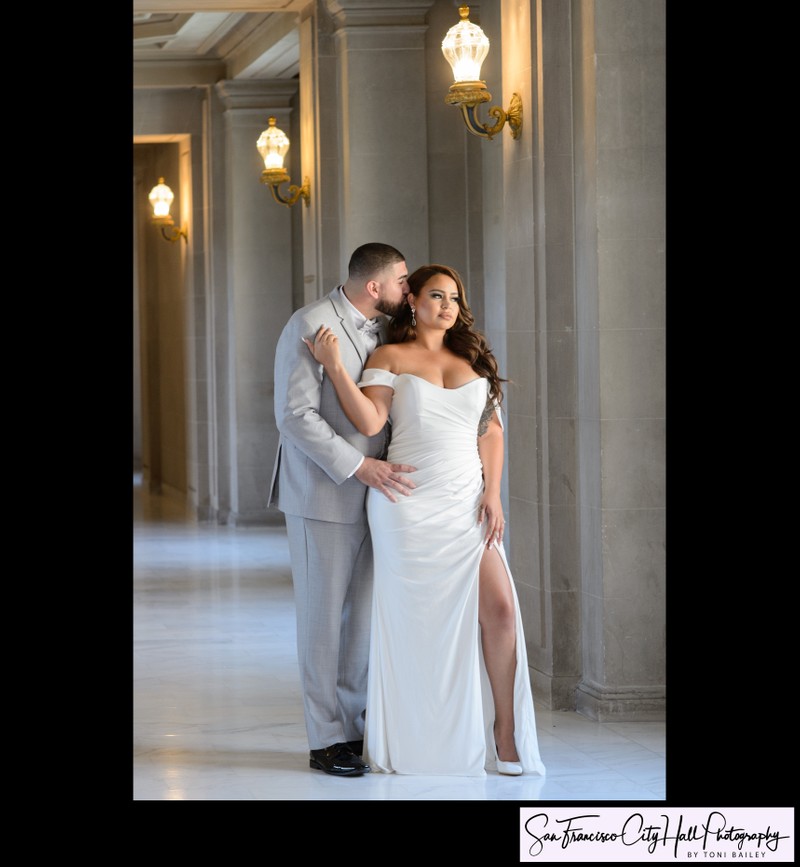 How to Take Great Pictures of the Bride's Wedding Gown
There are a few things to keep in mind when trying to show the Bride's wedding dress in the best way possible at San Francisco city hall. The first and most important aspect of this involves proper lighting. Using a direct flash or solely relying on natural light are not the best options. To show the texture and detail of the gown's material and shape, lighting coming in from the side is required. This creates detail shadows and highlights which accentuate the texture of Bride's wedding dress. If you have ever seen a wedding photo where the dress is mostly just washed out and all you see is white than chances are it was taken using direct flash. Even natural light can wash out the details of a dress if not positioned properly. The key with natural light coming in from a window is to position the bride off to one side. This will create the texture needed to show the details and beauty of the wedding dress. Fortunately, San Francisco city hall possesses many perfect windows to help create these types of images. As noted above, using our off-camera lighting will accomplish similar results.