Wedding Photographers San Francisco City Hall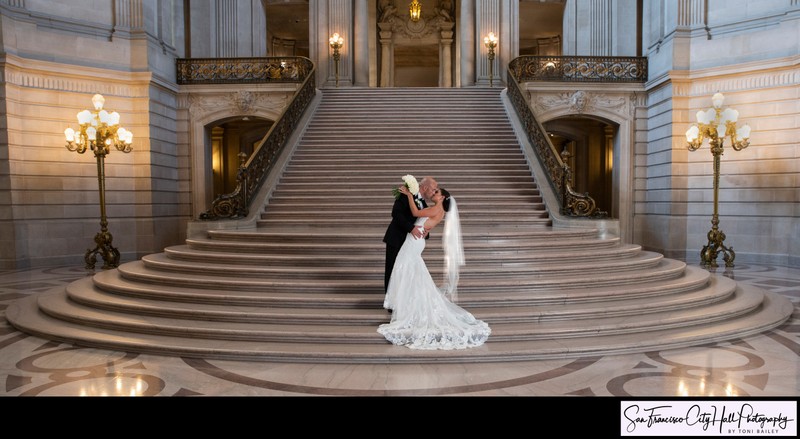 One of the premiere wedding photographers at San Francisco city hall with over 10 years of experience taking pictures at this amazing building. We are creating memories for couples every week and would love to be your San Francisco city hall wedding photographers! For more information about our affordable service, click on any of the Menu links at the top of this page including our San Francisco City Hall Prices or our Wedding Date Availability. We are happy to answer any questions you might have about our packages and prices. To learn more about us you can read our team's professional photographer bios. To do this please click our About Page. We have provided a you with a large number of wedding picture portfolios. We encourage you check out these San Francisco City Hall Wedding Galleries by clicking the link. Our small team of experienced wedding photographers (only 3 of us!) has had the pleasure of photographing over 800 City Hall couples from around the world and we would love to work with you. We look forward to you choosing us to be your San Francisco City Hall Wedding Photographers!
San Francisco City Hall Wedding Photography Experts!
Welcome to our San Francisco city hall wedding photographers website. We specialize in creating lasting memories while documenting your Civil Ceremony in a creative way. When covering weddings at SF City Hall, we do everything we can to capture all of the special moments that occur. Laughter and love should all be part of your day and we make sure that these precious memories are recorded forever! We offer San Francisco city hall wedding photography packages for every budget and desire. Allow us to photograph your nuptials and take you on a photo tour of the building. To see some of our favorite San Francisco city hall photography locations click the link. You can also expand your coverage and head out into beautiful San Francisco for more pictures and lasting memories. Our vast experience photographing weddings has enabled us to also serve as your personal city hall wedding planner. We handle everything for you and help make your wedding day stress free. This website contains tons of helpful information to aid our clients in getting married at San Francisco city hall. We also have the versatility to provide you with different wedding photography styles to fit your preferences. Please scroll down to see more information about how to contact and book us for your San Francisco City Hall wedding photography needs.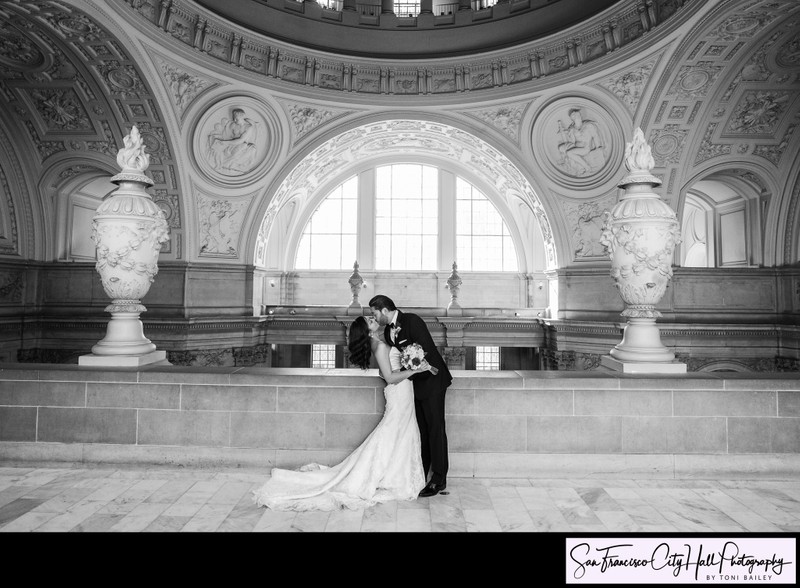 City Hall Tip of the Month for November 2023
With the month of November comes Daylight Savings Time and we start to lose light in the building. In these winter months it can get dark at City Hall in the late afternoons. This is no problem for us because we bring professional off-camera lighting that allows us to turn light into day. However, we also appreciate the beautiful natural light at city hall and so we certainly love to take advantage of that whenever possible. The main thing to start to be concerned about are the shorter days and how that may impact your wedding plans. Certainly, if you were hoping to book one of our San Francisco tour packages, you may need to make adjustments to the schedule. This probably means trying to obtain an earlier City Hall ceremony reservation. Anything before 2:30 pm should be fine and give us plenty of time to tour the town after your city hall nuptials.
We have recently added a new page on our website that shows many of our City Hall Couples that we have photographed over the years. This fun picture compilation includes images of our brides and grooms by the City Hall front entrance. Without a doubt, this is the most requested picture we take at City Hall so I thought it would be fun to show you all the different ways our couples celebrate after their wedding is complete. Enjoy this page and come back for future additions! We will keep adding more as we photograph additional weddings.
How to Reserve your City Hall Wedding Ceremony
To have your wedding at San Francisco city hall you can make 2 reservations, one for your marriage license and a second appointment for your civil ceremony. Both reservations can be made in person at the County Clerk's office (Room 168) on weekdays from 9:00 am until 3:30 pm. Or you can schedule your ceremony through their on-line reservation system and reserve your date as early as 90 days in advance. The online option is much preferred so you can avoid the lines at the County Clerks office. To obtain a reservation for your City Hall Marriage License click the link. Helpful Hint: You do not need to obtain your marriage license at San Francisco city hall, but the service is available there through the County Clerk. Any California marriage license is valid for 90 days and will allow you to have your civil ceremony at San Francisco city hall. So if you obtain your marriage license at another location, only one reservation is required for your ceremony. Just make sure you bring the marriage license! Many of our past couples have forgotten or did not know that a separate reservation was needed for the Marriage License. Don't let that happen to you! If you did not obtain your marriage license at San Francisco city hall, you will mostly like not be having your marriage that day.
Do Not Wait too Long to Book Your SF City Hall Wedding
I would suggest that you secure your wedding early if you are choosing to have your ceremony at more popular times of the year. Summer months, Fridays, and holidays like Christmas Eve, New Years, and Valentine's Day can all book up fast. Unique numeric dates also disappear quickly, so definitely keep that in mind when trying to reserve your City Hall wedding date. This has become even more important ever since San Francisco city hall reduced the number of civil ceremonies per day. This reduction occurred after the reopening of city hall after the Pandemic closure.
Other Options for Getting Married at SF City Hall
To book the Mayor's Balcony or 4th Floor Gallery for a weekday wedding you will need to pay approximately $1,000. This price does not include an officiant. which you will have to arrange for on your own. These reservations need to be made through the San Francisco City Hall Events Office. You can use this same link to book your San Francisco city hall Saturday wedding ceremony. Please keep in mind that the City Hall Events service and the County Clerk are 2 different departments and really do not communicate that much with each other that much. If you are interested in a civil ceremony, that is facilitated through the County Clerk, if you want a reserved wedding, contact the Events Department. The best San Francisco city hall wedding photographers tend to book up fast, so once you have your appointments set, it is time to find an experienced professional.
Best SF City Hall Ceremony and Photo Locations
There are many beautiful locations to get married at in San Francisco City Hall! We have compiled the list below of some of the best available weekday ceremony options to help you choose your favorites. Some of these locations usually require a reserved ceremony fee, but you can ask your officiant if they will allow you to choose one of these alternative ceremony locations under certain circumstances. In most cases, the city hall officiants will only allow you to get married in the Rotunda. If you prefer to have a private ceremony with your own privately hired officiant, you may be able to have it at one of these locations as well. If this is your preference, we can also help steer you to the best places in the building to accomplish this and even help you with finding a private officiant. We have compiled a good sized list of experienced San Francisco city hall wedding officiants to help you with your ceremony. Most of them are part of the regular rotation for civil ceremonies and so they will even wear the robes!
The list below is also a great resource to use in choosing the best San Francisco city hall wedding photographers locations available as well. All of these locations serve as amazing photo tour spots to take our brides and groom for pictures after the civil ceremony is complete. We have tried to include information regarding both types of uses (photography and ceremonies) for each location.
Rotunda Weddings - This is the most common place wedding ceremonies occur at San Francisco city hall. You will meet with your officiant shortly before your civil ceremony and will often be provided a choice of getting married in the Rotunda or the private room. The Rotunda is at the top of the Grand Staircase, but the privacy is limited. People walk by and will occasionally take photos of the ceremony. But it is the default location for the vast majority of city hall weddings and is a beautiful spot. There is some privacy afforded by the walls surrounding this top-notch area. We also like the Rotunda area because of the neutral-colored walls surrounding it. This background allows us to bounce our flashes for softer light and a natural look. When we take pictures of you in the Rotunda, you will not even be able to tell we used a flash because the light appears so natural. This is also true for your wedding photo tour after the ceremony. It is all in how we do the lighting!
Grand Staircase Ceremony (mostly on Saturdays) - The Grand Staircase offers beautiful architecture but is the least private area in the building. The staircase is one of the more popular destinations for tourists and other professional San Francisco city hall wedding photographers so there is lots of activity. This activity will not curtail during your city hall ceremony, and it could end up being a distraction for the bride, groom and guests. There is no guarantee that San Francisco tourists won't walk by and listen to you performing your marriage vows. The grand staircase is also available for reserved weekend weddings and works quite well for these much more private ceremonies. Since San Francisco city hall is closed to the public on the weekend, there is no concern about the above-mentioned distractions. UPDATE: The Marriage Commissioners who were using the staircase for week-day ceremonies appear to have retired and so this location remains a beautiful spot for your wedding photos. Definitely a premium location for City Hall wedding photography.
Mayors Balcony Reserved Ceremony - This option is available to you for an additional $1000. The Mayor's Balcony is roped off for one hour to provide privacy to you and your guests. The SF city hall events department also will set up chairs for your guests at your request. They can seat up to 40 people comfortably in my opinion, but we have seen more on occasion. I think the maximum is 60 but we rarely see that. This is one of my favorite places to photograph because of the beautiful Rotunda in the background. Reservations need to be placed through the City Hall Events Office to have your wedding on the Mayor's Balcony and you can do this up to 1 full year in advance. Reserved ceremonies are on the rise recently because so many San Francisco venues are still closed due to Covid-19. Be sure to reserve early to obtain your reservation. One thing to be aware of is that the Rotunda is a great background, but there WILL be people in the background of your ceremony pictures. Note: You do not need to check-in with the County Clerk on the day of your wedding if you have chosen this location for your marriage. This is also true for Fourth Floor Gallery weddings.

Fourth Floor Gallery - Reserving the 4th Floor Gallery is another option to have a private ceremony for you and your guests. One hour here for your ceremony will cost you $1000. The 4th floor offers the best view of the inside of city hall and is a popular reservation choice. Make sure to book early through the City Hall Events Office if you choose the 4th floor for your ceremony site. We have a strong preference for the North Gallery because there is usually no direct sunlight streaming through the large bay windows. If you are on the South side in the summer, the sun can be quite hot and difficult to deal with. It can also make wedding photography difficult due to the harsh light present. Here again, there will frequently be people in the background of your ceremony pictures from across the building. It is hard to avoid, but not too bad of an issue. You can book this option up to 1 year in advance. This is also a wonderful place for wedding pictures after your ceremony and even the family shots work well here. Most San Francisco city hall wedding photographers love the 4th floor for pictures so if you reserve it with a ceremony, it is all yours for 1 hour! Important: Both the Fourth Floor and Mayor's Balcony reserved weddings will require you to hire your own Officiant to perform your nuptials. This can cost anywhere between $200 and $300.

Saturday Weddings at SF City Hall
Another alternative is the San Francisco City Hall Saturday Package offered by the Events Department. These weddings are 2 hours in length and can be booked through the Senior Event Manager. If you want to go all out, you can rent the entire San Francisco City Hall for 10 hours! This allows you to take photos throughout the building with nobody in the background! The lighting at night in City Hall is also quite spectacular. They do not always provide access to all 4 floors so you should ask your event department representative about this. Work closely with your San Francisco city hall wedding photographers when it comes to coordinating Saturday events. Again, you will need to hire your own officiant, city hall does not provide one.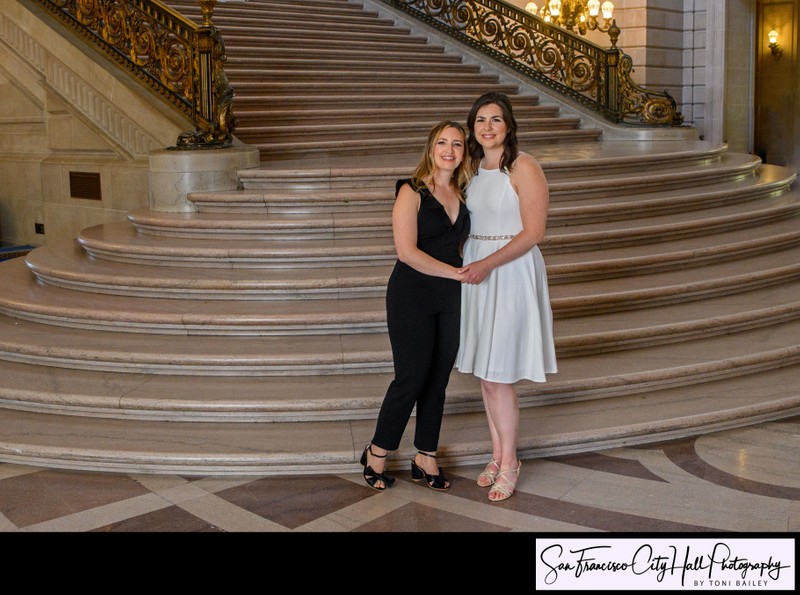 San Francisco City Hall Ceremony Alternatives
You have decided to elope to San Francisco, and you love the wedding photos you have seen captured at City Hall, but you just don't want to say your "I DO's" there. Maybe you want to have your elopement outside the official hours that City Hall performs ceremonies. No problem! Let us help you find a licensed marriage officiant, choose your favorite spot to get married in San Francisco, and get hitched! Want your wedding on the beach? Do it! Want the Golden Gate Bridge in the background? Go for it! It's your wedding day! You can pick the location and have fun. Just make sure that you remember to acquire the appropriate permit or permission if needed at that particular ceremony site. Once you have all the details worked out, bring yourselves, your officiant, marriage license, proper ID, and your witness. Don't forget your San Francisco city hall wedding photographers! If you do not have a witness, I am happy to serve in that capacity for you. This can be an affordable alternative to your San Francisco city hall wedding. We will take you to SF city hall for amazing pictures after your nuptials are complete if you so desire.
Serving the San Francisco Bay Area
We are based in San Francisco but serve other City Halls throughout the entire Bay Area including Pleasant Hill, San Mateo, Oakland, Martinez, San Ramon and others. Despite the fact that these other city hall wedding venues may not offer quite the architecture and history that San Francisco does, many of them have lovely outdoor locations nearby for wedding photo opportunities. We can also take you to alternative San Francisco Bay Area locations for the rest of your wedding photography session. We have been offering our services throughout the SF Bay Area for years, let us help you on your special day. We can be your city hall wedding photographer at any location throughout the Bay Area. Martinez, in particular has some fantastic photo locations in the old town section and we can walk there after your civil ceremony. It is conveniently located close by to the County Clerk. In addition to the historic buildings, Martinez has some small parks and nice trees to use for wedding photos.
Ask us about our affordable extended wedding reception coverage. Our longer SF tour packages can be altered to cover your wedding reception or family dinner in the "City by the Bay". Our service is open to people of all cultures, religions, gay / lesbian / same-sex and race. We are LGBTQ+ friendly. We are a full service and well established professional wedding photography company and have been in business in San Francisco for over 10 years.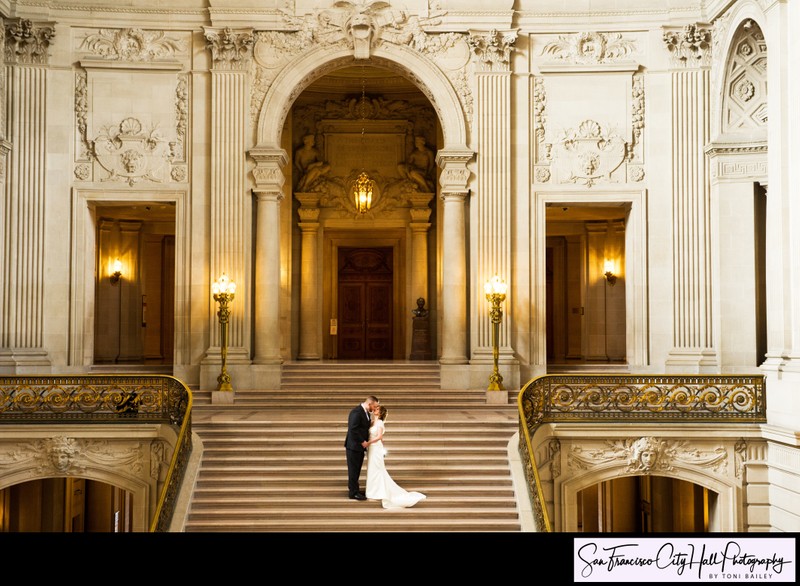 Incredible San Francisco City Hall Architecture
The architecture at San Francisco City Hall is absolutely magnificent. People from all over the world come to San Francisco City Hall to not only get married, but to tour this historic building. If you get a chance, stop by and sign up for a free docent tour available daily. The docents love to share their knowledge of this beautiful building. We actually have participated in these tours and learned a lot. During your walk throughout San Francisco City Hall, you will be able to see some of the locations where daily wedding ceremonies occur. The beautiful architecture present is French inspired and is in the Beaux-Arts style which is characterized by repeating lines and symmetry. These unique and ornate patterns are one of the things that inspire wedding photographers at San Francisco city hall to create beautiful wedding pictures.
We Feature the Architecture in Our City Hall Wedding Photography
Our own SF City Hall wedding photography tends to feature this architecture prevalently. Over the years, we have made this our signature photography style. We have learned that our couples chose this amazing venue because they love the backgrounds and history of the building. To learn more about SF City Hall, invite your guests to come early and tour the building before your wedding. It's a great way to make sure everyone is on time. To learn more about the history and construction of this amazing building click this link for San Francisco City Hall. Here you will learn additional details about how City Hall was rebuilt after the great San Francisco earthquake of 1906 and other interesting and more recent historical information. There is also a self tour located in the South Gallery on the 1st floor with lots of useful information. Just walk in and turn left as you arrive at the Grand Staircase. They have videos, pictures and newspaper articles on display. I really think it will enhance your overall experience having your wedding here and you will learn some interesting things.
The Best Photography Locations in San Francisco

We have discussed some of the best places for wedding photography inside of city hall, now let's talk about the rest of San Francisco as a great place for pictures. After your San Francisco city hall ceremony, we will take you on a tour of the building to photograph you and your new spouse. Many of our city hall customers want more photos and ask us to take them to other locations around San Francisco. By booking either of our San Francisco Photo Tours including the "San Francisco Romance" or "Enchantment" Packages, we will escort you to other destinations in the city for photos. There are so many wonderful places within San Francisco for wedding photography. Let's explore below some of the best locations to go for romantic wedding photography in the city by the bay.
The Palace of Fine Arts - One of the more famous wedding photo spots in San Francisco. A beautiful place for pictures, good parking mid-week, and easily accessible. The only downside is that there are always people around and they could be in the background of some photos. Gorgeous architecture and wonderful colors set the Palace of Fine Arts apart from other famous SF locations. Some people will tell you that the architecture is reminiscent of San Francisco city hall. While there are some similarities, for the most part they each have their own unique personalities. Crissy Field is just across the street with great San Francisco views and easy beach access. The Golden Gate Bridge can also be seen from the Crissy Field vantage point with some unique angles to take advantage of. All in all, the iconic Palace of Fine Arts continues to be one of our SF city hall newlyweds favorite wedding photography locations. It is also conveniently located adjacent to other San Francisco landmarks. This makes it a good combination if you decide on one of our multiple location packages. The only downside to this location is that there are no public restrooms unless you are willing to cross the street over to the Crissy Field location. This is the preferred destination for many of San Francisco's leading wedding photographers, so it must be good! We often see San Francisco city hall brides and grooms here taking their own photos with their wedding photographers.
The Golden Gate Bridge - Probably our most frequently requested photo location after SF City Hall weddings. It can be approached from many angles and is THE iconic San Francisco photograph. If it's a foggy day, it becomes nearly invisible. We always recommend alternative locations just in case or we will take you closer if possible. It also might be a little chilly and windy so be prepared! We can get nice shots of the bridge from Crissy Field, Fort Point, Lands End, Baker Beach and the Legion of Honor. We can also take you to Sausalito for a unique angle. On a foggy day, Fort Point is probably the best bet to get a good look at the bridge since you are practically underneath it! In addition, the fog usually comes in from the west so this means that you might have it in the background, but still see the bridge. From the ocean side, heavy fog makes it a tough picture to obtain. Just recently we went to Baker Beach and could not even see any of the bridge. We still were able to get some great shots of the couple by the ocean. If you are willing, we highly recommend taking pictures by the bridge even with the fog rolled in. It makes the wedding pictures more authentically San Francisco! You just got married at San Francisco city hall after all! It is not at all uncommon to see other wedding photographers taking some of the same pictures we do at the Golden Gate Bridge. It is a very popular spot and not to be missed.
The Legion of Honor - It's a bit of a drive to reach this fantastic photo location, but well worth it. The light here is always great for photos and it's a nice place if the weather is bad. You can even see the Golden Gate Bridge from here! If it rains on your wedding day, this is the place to go to because there is some shelter provided from both the wind and dampness. There are also some nice natural outdoor locations nearby. Note: Our Golden Gate Package includes 1 San Francisco location, if you choose the Legion of Honor, we will also take some photos with the bridge in the background. 2 locations for the price of 1! It is closed on Monday and after 5:15 pm on other days. Parking is almost always available which also makes this a convenient destination. A perfect place to go after we complete your San Francisco city hall wedding photography session.
The Japanese Tea Gardens - Another beautiful photo spot in San Francisco. Parking is tough and be prepared for a good walk! There will be lots of people in the background, but it's possible to avoid them by visiting certain areas of the garden and we know where these beautiful locations are. The Tea Gardens are in Golden Gate park - another nice photo location. Plan on making this a large part of your day. It's not something that can be done quickly, but wedding photography here can be absolutely incredible. There is a reason that people come to the Japanese Tea Gardens from all over the world. San Francisco wedding photographers also love to come here and so you will see other brides and grooms roaming around. Make this one of your destinations after your San Francisco city hall wedding. Your will not regret it!
Ghirardelli Square - We love taking people here because there is so much going on. It's a great location for San Francisco Street Photography and the perfect place to get a Cable Car Shot! This is because the Cable Cars line up here to enter the Hyde Street turnaround so most of the conductors will allow the newlyweds to quickly board the Trolley for wedding pictures. It is amazing what can be achieved when you have a dressed-up bride. It seems that everyone is happy to accommodate us if we have a bride in tow. Ghirardelli Square is also home to a multitude of fun bars and restaurants to visit. Many of our clients like a photo with the famous Ghirardelli sign in the background. We often end our shoots here by taking the couple to the famous Buena Vista Café. The Irish Coffee is on us! Be prepared to be loudly cheered by the patrons as you walk in the door! Another great destination to visit after completing your San Francisco city hall wedding ceremony.
Twin Peaks Lookout Point - Without a doubt, the overall best view of The City. There may be some more spectacular individual views, but if you want to see the whole city and how it interacts with the water and the bridges, this is the place to be. You can capture a near panoramic view of San Francisco from up here. Parking can be difficult and don't bother if it's foggy or really windy. The views are still great if it is windy, but it can be very difficult to capture great wedding photography images with this type of weather. Parking restrictions recently added has made access a little tougher, but we can still manage. It is a bit of a drive from San Francisco city hall, but well worth it! We will just need to allow enough time to get there and back. I think the best way to get to Twin Peaks for wedding photography is by Uber.
Bakers Beach - This location has experienced somewhat of a resurgence since the reopening of San Francisco city hall. We have found ourselves going here as much or even more than The Palace of Fine Arts. I think part of the reason for this is the fact that people are being a little more careful about choosing San Francisco landmarks that are touristy and crowded. I assume this is a by-product of the still simmering Pandemic. Baker Beach is a lovely spot for a couple of reasons. First, it offers one of the best views of the Golden Gate Bridge. On a clear day, it almost seems like you can reach out and touch it. Also, for those who love the ocean, this is an especially picturesque beach with smaller crowds. A great photo spot no matter what direction we point our cameras. As a bonus there are also some backwoods areas that we sometimes take our newlyweds for pictures. This beautiful location is just minutes from the beach and offers an alternative to strictly taking ocean view photos.
Lands End Trail - One of our favorite spots to take our San Francisco city hall brides and grooms is the trailhead at Lands End. The start of this trail can be picked up just south of the Lincoln Park Golf Course 17th hole. For those couples who want a more natural setting, this is the place to go! Plus you receive the added bonus of a great angle of the Golden Gate Bridge. We can walk you a little way down the trail and get some nice rustic photography with trees and flowers in the background. The bridge is a bit far off, but if it is a clear day shows up nicely. We often see other wedding photographers at Lands End and it is a favorite place for many.
Sutro Baths - One of San Francisco's famous historical destinations, the baths actually no longer exist, but the ruins remain. Located right on the ocean, Sutro Baths can be a spectacular place for wedding photography. Just make sure you are OK with climbing lots of stairs and are not afraid of heights! There are some narrow walkways with a pretty sharp drop off. It is not that far up, but you could still get injured if not careful. As long as you have good balance, this should not be a problem. Another favorite place to take our San Francisco city hall newlyweds. Please allow some extra time because the drive out to Sutro Baths is pretty far. If you booked one of our San Francisco photography tours, we suggest pairing the Baths with The Legion of Honor or Baker Beach. Both of these popular destinations are on the same side of San Francisco. To learn more information about the history of Sutro Baths, click the link.
North Beach - Not truly and beach but a fun place to take our San Francisco city hall wedding couples for pictures. What makes North Beach so special? I think it is just the fact that there is lots of iconic restaurants and bars to use for back drops and walking shots. Even stepping into a bar briefly can be a fun way to get some nice wedding pictures. In addition, you have the beautiful and fairly large Washington Square park with trees and grass. I really enjoy bringing my newlyweds here for pictures after San Francisco city hall and allowing them to just roam free.
Additional Locations - More location suggestions coming soon! To see some additional sample photos of our discounted San Francisco Tour packages check out this page.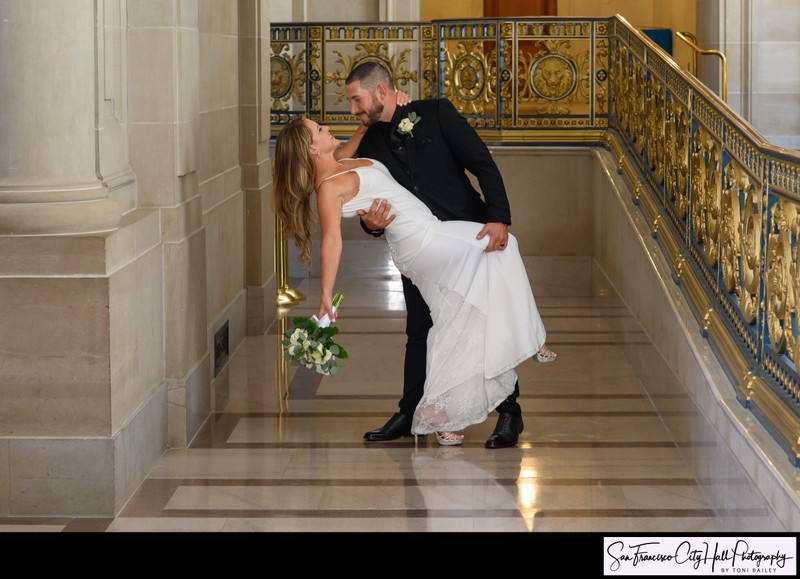 City Hall Wedding Albums and Prints Available
We offer our San Francisco city hall customers many options in addition to our quality photographic coverage. We can put together a gorgeous and yet affordable professional wedding album for you or a music slideshow of your wedding images. One of the added benefits of ordering a wedding album is that we give each of your selected photos a second round of editing. This special treatment will sometimes include facial retouching and removal of distracting background items such as Exit signs and tourists. This can especially be useful if you happen to choose a busy day for your wedding because we can remove people from the background using Photoshop (in most instances). We can also provide beautiful wall portraits and small prints with a number of different framing treatments that you can compare. Wedding albums are one of the best ways to display your treasured San Francisco city hall images and we are currently offering them at a discount. Another added bonus is that we will provide you with all of the wedding album digital files, which include the special edits. Not all wedding photographers at San Francisco city hall offer these complete services to their clients. Ask us for more details about our beautiful prints and professional wedding albums.
LGBTQ Friendly Wedding Photographers
We have photographed over 150 LGBTQ weddings over the past few years and have enjoyed every minute. We were one of the first San Francisco city hall wedding photography teams to extensively become involved in helping with Same-sex marriages. We would love to photograph your wedding and take you on a tour of the city with pictures. Please check out our LGBTQ+ portfolio to see many examples of our first-rate wedding images. We love this building for gay marriage photos and you will too! Recently there has been an increase in LGBTQ weddings and we have found ourselves booking more and more of them and we very happy that so many gay couples have chosen our service.
San Francisco Wedding Photographers
In addition to our San Francisco City Hall wedding photography coverage, we also offer packages to handle your full-day weekend marriage celebration. From bridal prep to the bouquet toss, we can provide you with full day coverage on your special day. We have experience with many of the major wedding venues in the San Francisco Bay Area. Our packages are affordable and flexible to fit your individual needs. We provide you with our normal friendly service and have creatively photographed over 1,700 Marriages.
How to Choose the Best SF City Hall Wedding Photographers
You see articles like this throughout the internet and on most San Francisco city hall wedding photographer's websites. It is a very challenging decision and one of the most important ones you will make while planning your wedding. Many of the articles I read about this provide great advice and lengthy explanations. Sometimes I feel like it can almost be too much to digest for the average engaged couple looking for a wedding photographer. So I thought I would approach this a bit differently and just highlight what I feel are the most important factors to consider. This website offers many details and further information regarding the details listed below. These are not presented in order of importance.
Carefully check the lighting on the photographers website - Is it pleasant or harsh?
Are the couple's poses creative and fun? Or do they just stare at the camera and smile?
Does the Wedding Photographer's website look professional and complete?
Do they provide useful information on getting married at San Francisco city hall?
Check carefully for online reviews on sites like Google and Yelp - How do they compare?
Can you find galleries on their website that show one complete wedding?
Experience does matter! How many San Francisco city hall weddings have they shot?
We are Happy to Meet With You at City Hall
If you would like to set up an appointment to see some of our best work, we would be happy to meet with you at San Francisco City Hall itself! Not only can you get to know us better, but we can show you some of our favorite wedding spots to photograph. We offer some of the top bargain packages available for SF City Hall civil ceremonies and will do everything we can to make it affordable for you. Many of our clients create their own custom package to fit their needs and budget. We also have special packages for elopements and pre-wedding portrait sessions, just ask us! This meeting can also give the engaged couple the chance to tell the wedding photographers some of their favorite places. To read our 50 - 5 star reviews click Yelp SF City Hall wedding photographer. These 5 star reviews will provide you with a good idea of our approach and style, and we encourage you to read some of them and not just rely on the numerical ratings.
How To Book Us as Your Wedding Photographers
In San Francisco you have many of the best city hall wedding photographers to choose from. Please look around the website and see if our style is for you. We know that every bride and groom may have different preferences for the types of styles and images that will make them happy. We are proud of the fact that we have the experience to vary our style to some degree to suit your needs. Just let us know the type of style you want, and we will point you in the right direction. The important thing is that you find the right photographer for you even if it is another company. If you are looking for professional wedding photographers for San Francisco city hall and have decided to book, please contact us for more information about our services and to check our availability for your big day. We would love the opportunity to photograph your SF city hall wedding! We are also currently offering discount wedding packages for the winter months only. View our Privacy Policy. Copyright 2023