North Gallery at San Francisco City Hall
The fourth floor north gallery at San Francisco City Hall is one of the most beautiful natural lit areas in the building. In addition to being a great location for taking pictures of the bride and groom, the North Gallery also serves as one of the areas where the City Hall Events department allows reserved weddings. A reserved wedding allows the couple to rope off this entire section of the building for a cost of $1,000. They also set up chairs and nobody is allowed to come in to the area besides the guests. This provides some privacy that is not available in San Francisco city hall civil ceremonies that take place in the famous Rotunda area. If you have more than 6 guests, we highly recommend considering a Reserved Ceremony for your wedding. Please keep in mind that you will also have to supply your own wedding officiant. This not needed for a civil ceremony because the County Clerk provides one as part of their service.
San Francisco City Hall Wedding Images on the 4th Floor
This pose shows off the beauty of the bride's wedding dress while being romantic with her groom. I really love this location for wedding pictures because it provides a certain amount of privacy coupled with the best natural light in city hall. You do not need to reserve this area if you want to take wedding pictures in this area. However, you do need to check before coming on this floor of San Francisco city hall to make sure there is not a reserved ceremony going on at the time. If you are able to access this location you will be greeted by the huge window and tons of amazing outside light coming in. This make for dramatic city hall wedding photography that is only possible in this area. If you are a big fan of San Francisco city hall architecture, this is the place to go for your wedding pictures. You can get incredible pictures showing part of the dome and also the details that were carved into the building and statues.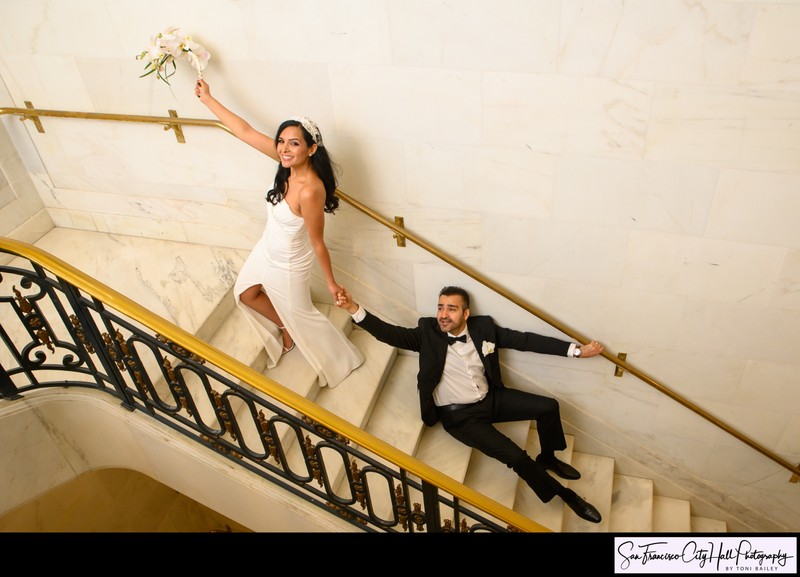 Fun city hall wedding picture taken on the 4th floor