Grand Staircase Railing Wedding Photo
This unique wedding photograph is taken with the photographer at the top of the staircase and shooting down the railing. There are many different ways to highlight the staircase at San Francisco City Hall. This particular angle is not seen that much on other websites and part of the reason for that is that the first floor has to be pretty empty to pull it off. It requires proper lighting as well, which also makes it a challenge. We like this angle because it really shows off the pattern on the floor at the bottom of the staircase. The majority of San Francisco city hall wedding photographers shoot up at the Grand Staircase. We think that this angle is unique and provides a different view.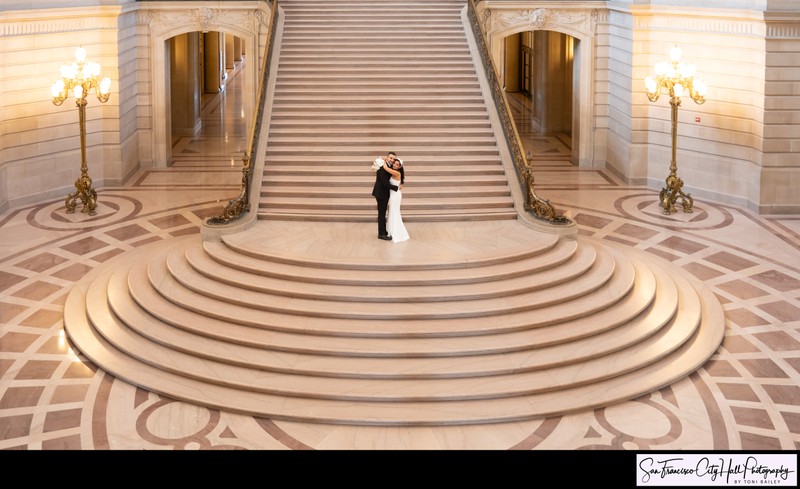 How to Capture the Best Wedding Pictures on the Grand Staircase
One of the biggest challenges for San Francisco city hall wedding photographers is to provide their couples with great pictures of the Grand Staircase. You might wonder how this could be since the Staircase is one of the most beautiful features at SF City Hall. There are a couple of challenges with the primary one being tourists and other couples. As a wedding photographer you have to be patient and wait for the best opportunity to capture photos on the Staircase. I find that the best way to do it is take our newlyweds around the building and utilize all the great backgrounds throughout the building. However, while we do this, we never take our eyes off of the Staircase. If we notice that there is no body there, we rush down and grab some quick shots. The other challenge on certain parts of the Grand Staircase is lighting. At various times of the day, the staircase can receive unflattering overhead lighting. I see many city hall wedding photographers taking pictures without any supplemental lighting. While this can be fine sometimes, you risk "raccoon eyes" or unattractive shadows when the overhead natural lighting is present.