About the SF City Hall Wedding Photographers
Mike and Toni have been photographing weddings together for over 10 years, with over 600 at San Francisco City Hall. One of us will always photograph your wedding. We are not one of these large San Francisco city hall teams you may see on other websites where you really do not know who will cover your wedding. If you book us, it WILL be either Mike or Toni. Here are a few 'fun facts' about each of us so that you can get to know us a little more.

• As music lovers we both enjoy playing instruments. Toni plays flute and drums, and Mike plays guitar.

• We both love animals. Toni has 3 dogs and a cat at home. Mike has a 3 cats and a horse with more horses on the way.

• Toni loves to sail, and has over 10,000 off shore miles! She is currently sailing in the South Pacific.

• Mike is a San Francisco Native and loves sharing his city with people from around the globe. Yes, he was actually born here! Very few natives around of course.

• We both love traveling and seeing the world (destination wedding? We're in!) We both love Italy, Spain and France.

• We both feel incredibly fortunate to be able to do the work we do and meet so many amazing couples. San Francisco city hall is a great place to do business and the city is a fantastic environment.

• Our family and friends are everything to us and one of our favorite aspects of our job is being able to meet so many amazing people who often become friends. We have maintained many of these relationships started at San Francisco city hall. We have even met with former brides and grooms on their return trips to San Francisco. Maybe to share dinner or a drink.
SF City Hall Wedding Photographer Bios
Happy 2022! Mike and team are ready to provide you with the ultimate San Francisco City Hall wedding experience. In addition to the amazing wedding photography they offer, their goal is to always make the day fun for both of you! With over 600 San Francisco City Hall weddings photographed, Mike and his team know the best spots in the building and the time of the day to take you there. Their combined Wedding Photography experience spans well over 35 years, providing you with comfort and confidence that you have chosen the right team to photograph your San Francisco City Hall wedding. Their easy going style will help you feel comfortable in front of the camera. They create memories to last a lifetime! All weddings will be photographed by either Mike or Toni and possibly assisted by the other. Other assistants include Tiana Hunter and Lilly James.
Meet Mike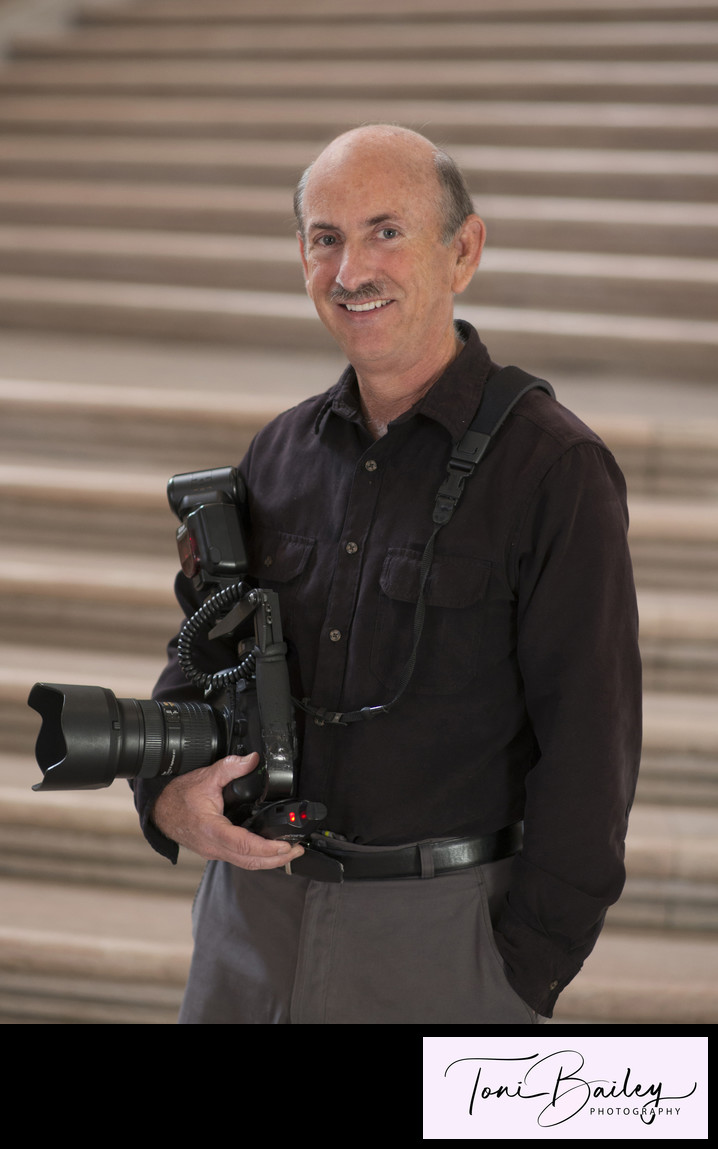 Mike was born in San Francisco and spent many years living here and walking the neighborhoods. A rare SF native, Mike knows the city very well and loves to talk about it's beauty. Mike feels that much of his artistic ability and love for the city comes from his mother who was an amazing artist. His mom painted many San Francisco scenes including Victorian houses.

An MBA graduate of the University of San Francisco, Mike put himself through school with sports photography and occasional weddings. His photography career spans 3 decades and he has photographed over 1,600 weddings! Quite a few years ago, Mike discovered San Francisco City Hall as a wedding venue and made it his specialty! This allowed him to spend more time with his family with less weekend weddings. Most of City Hall's weddings occur during the week!
Meet Toni

Toni Bailey is an international photographer and has been been photographing weddings for 12 years including over 600 San Francisco City Hall Weddings. She enjoys working with her couples to create romantic long lasting memories. A native Californian, Toni grew up in Los Gatos and has spent time in Susanville, Chico, Los Angeles, and Concord, and Oregon. She is an accomplished musician and though her primary instrument is the flute, she has experience playing the drums, guitar, alto saxophone and piano. Her education includes an AA Degree and she is working towards obtaining her Bachelors Degree. Toni also enjoys travel and has participated in international photography seminars throughout Europe, Mexico and the Caribbean. These seminars and workshops have helped sharpen Toni's skills in both the technical aspects of people photography and portrait posing techniques. She absolutely loves sailing and has sailed to Hawaii and throughout Mexico. She is currently sailing in the South Pacific so temporarily not shooting weddings with Mike.

Toni loves to photograph people and has a creative but unobtrusive style that allows her to capture natural and relaxed images of her subjects. Her friendly demeanor "invites you in" and makes you feel comfortable in front of the camera. Toni can be seen photographing Brides and Grooms at City Hall on a weekly basis and always does it with a smile.
Meet Tiana
Tiana has been shooting San Francisco city hall weddings for many years and has also spent considerable time as a fashion Model. Her understanding of posing is unsurpassed and will make all of her SF city hall brides as beautiful as they can be. Tiana has joined us as a second shooter for well over 50 San Francisco city hall weddings. She is a seasoned professional San Francisco city hall wedding photographer with over 10 years of local experience. Tiana is also available as a primary shooter for city hall through her own business. She has hundreds of creatively photographed weddings in her repertoire. Most importantly, Tiana is kind and easy to work with, she will make you feel very comfortable in front of the camera. We will be adding more to Tiana's bio soon!
Wedding Photography Equipment
All of us shoot with Nikon camera equipment and possess the latest technology in wedding photography. We approach each city hall wedding with a full slate of back up equipment including spare flashes and camera bodies. Our cameras include the following models: Nikon D850, D780, D750 and D6 II Mirrorless. We love our prime lenses and will photograph your wedding with a combination of lenses including a 85mm f1.4 and a 180 F2.8. We also use quite a few zoom lenses with our 16-35mm and 24-70mm being the most popular. We prefer to use off-camera professional lighting equipment to provide you with dimensional lighting. On camera flashes can cause flat lighting so we avoid that whenever possible. For the most part, we only use on camera lighting during the ceremony to provide us with a bit more versatility and speed. But all of the lighting is bounced off the walls to avoid harsh light. Return to the Home Page for SF city hall wedding photography or scroll down for more city hall wedding pictures.