To-Do Items for Planning Your City Hall Wedding

San Francisco City Hall weddings are amazingly beautiful and unique and can be a great place to start your new life together. Follow these steps to help you complete a few things in advance of your wedding day at this great venue. Help keep your wedding day stress free and fun. Following these tips will also enhance your wedding photography at San Francisco city hall.
Choose your City Hall Location

Every City Hall is special in its own way. San Francisco, New York, Philadelphia, and Chicago are a few of the popular courthouse wedding locations. I am of course partial to San Francisco City Hall. Many city halls have specific locations within the building where you can get married. In San Francisco you have a choice of locations within the building itself. The Rotunda and private room are the first two spots that City Hall officiants usually recommend. Another option is to pay extra and have your reserved wedding at the Mayor's Balcony or Fourth Floor Gallery. This costs only $1,000 for a one hour reservation.


Make Wedding Reservations

You decided to get married at San Francisco City Hall, now what? Make reservations! You will need to make 2 of them. One for your marriage license, and one for the ceremony. I highly recommend that you plan your marriage license appointment the day before your wedding or at the least 1 hour before. San Francisco city hall recommends 30 minutes, but I find this to be to close together. Booking the marriage license meeting well before your ceremony will give you extra time and give you one less thing to worry about. It also gives you time to fix any problems that might arise when you attempt to get your license. The second appointment is your actual ceremony time and date. The County Clerk allows you to make your ceremony reservation 90 days in advance of your wedding date. If you really want a specific date, we suggest you get on the the San Francisco city hall wedding website at midnight 90 days before your desired date. Marriage license reservations need to be made at a California location to be valid at San Francisco city hall.


Hire a Professional SF City Hall Wedding Photographer

You are choosing to get married at a stunning venue, and you want to make sure you have great photographs to capture those special moments. Hire the best professional city hall wedding photographers you can find. If you are thinking that maybe you can save a few dollars by having one of your friends photograph your wedding, think again. The constantly changing light, tough shooting angles, and the large amount of tourists usually present can make it very challenging to be a wedding photographer at San Francisco City Hall. Many locations require some sort of supplemental lighting, especially the Mayor's Balcony. Find an affordable San Francisco city hall wedding photographer that has experience. We have personally photographed over 600 weddings at City Hall and have the experience to provide you with excellent wedding photos that you will be able to cherish forever. However, if you prefer a different photography style, there are many other experienced photographers who specialize in this venue. We know many of them and can recommend our favorites if you ask.


Write out your Wedding Day Guest List

How many people do you want at your wedding ceremony? If you want just the two of you or just a few of your closest family or friends, then the civil ceremony at City Hall is perfect. If you have more than a few people you want to invite, then renting out the Mayor's Balcony of Fourth Floor Gallery is a good option and quite affordable. San Francisco City Hall is now strictly enforcing the 6 guest limit restriction for civil ceremonies, but If you rent a private space you can have up to 60 friends and relatives attend. As mentioned above, this is available for the Mayor's Balcony and 4th Floor Gallery.


Choose your Wedding Attire

Ceremonies at City Hall are brief and non-religious. But it is still your wedding ceremony! You will be exchanging vows and pledging your love to one another. Dress up in clothes that make you feel like a million bucks! The attire of the traditional City Hall bride used to be a short white dress, a little hat and a few pearls. The groom usually just wore a suit. Today many brides are opting to wear more chic and trendy wedding dresses. Dresses that are lacy, long, have sweeping veils, or full bodices are a few styles that are popular today. And if the bride is going all out, the groom needs to match! A tuxedo compliments the bride nicely and adds elegance to your special day. Don't forget the flowers! San Francisco city hall is a beautiful backdrop for your nuptials, but because of its monotone nature, a splash of color from a nice bouquet really helps! Many of our San Francisco city hall brides are surprised when they arrive on their wedding day and see so many formal dresses. This is something unique to this venue because of its formal nature. Not to mention the history behind it.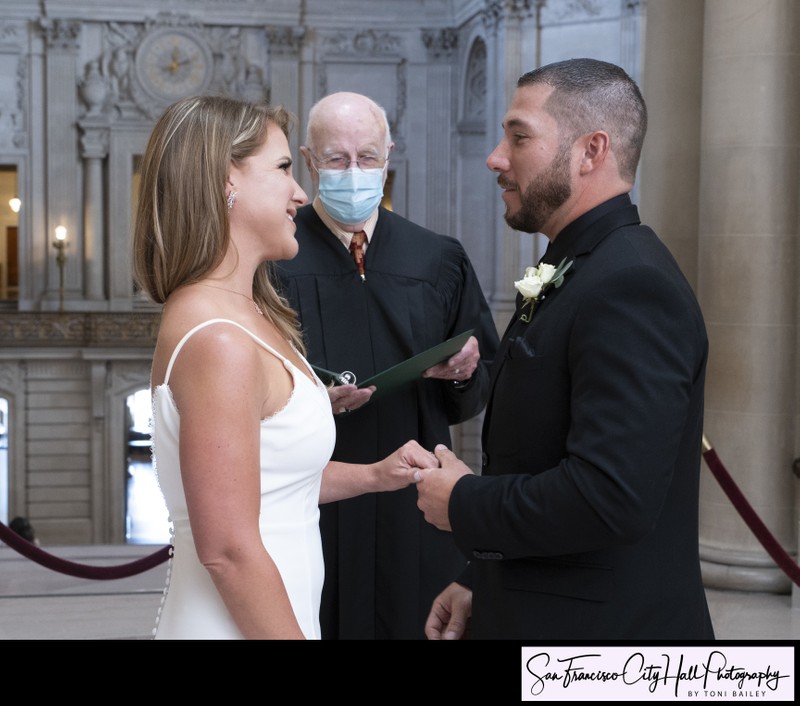 You may also want to check out our City Hall
Wedding Day Tips
or you can return to our
Wedding Photographers
home page.