San Francisco Wedding Photo Tour

Our San Francisco Photo Tour packages provide you with the opportunity to see some of the most famous sites in the City while we take great pictures of you both! The Palace of Fine Arts, the Golden Gate Bridge, and the Legion of Honor are some of the destinations available to see on your SF photo tour. Our "San Francisco" Package tends to be very popular especially with out of town brides and grooms. This package includes 4 hours of total coverage and enough time to visit 3 additional SF locations after we depart from City Hall. We make this a fun tour without running from place to place too quickly. We want you to enjoy the photography and also the sites. Want to stop in at a neighborhood bar? We would be happy to take some photos of you sitting with a drink and toasting each other. We recently escorted one of our Australian newlyweds to the famous Buena Vista Café and walked in to thunderous applause as the patrons noticed our dressed up bride. This is a memory they will have forever! That's what the San Francisco Tour is all about - great memories and not just photography.
San Francisco Wedding Photography Tour Samples
Please scroll down on this page to see a few samples of San Francisco Photo Tour images. If you want to experience even more of the city and book a longer tour, just let us know. Custom packages are available, which can include even more San Francisco destinations. To view the details of this SF City Tour package, please click Info - Prices and Services.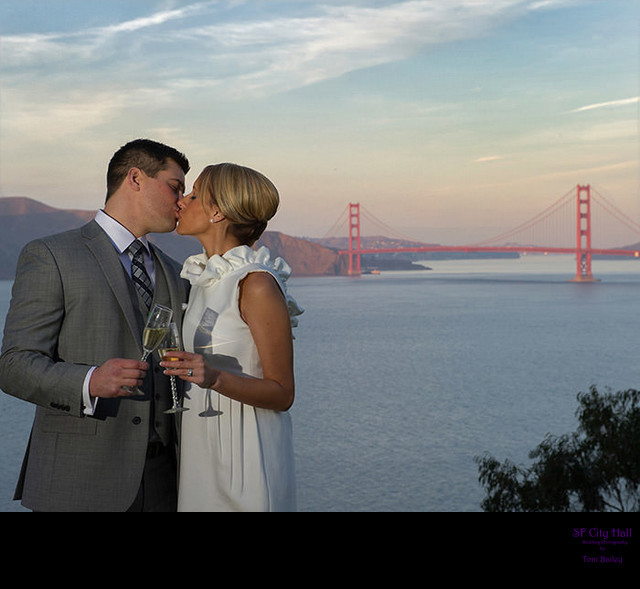 The photo above is one of our locations for the San Francisco City Tour package. This is the view of the Golden Gate Bridge from the 17th hole of Lincoln Park Golf Course. It's very close to the Legion of Honor, so we often take our couples to both locations. Nick and Ashley are shown here toasting with champagne shortly after getting married at San Francisco city hall. They chose to combine the 2 locations and we were very glad they did. We always try to make the tour convenient for the couple and not waste too much driving time in the car. There are certain combinations of San Francisco destinations that work well on the tour based upon their relative locations. We don't force you into these combinations, but will certainly provide you with the best options to make the most of your travel time throughout San Francisco.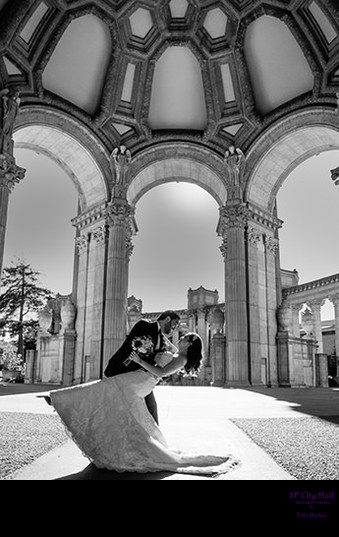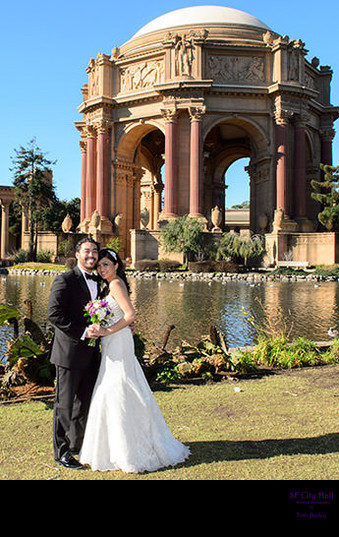 The Palace of Fine Arts (shown above in both pictures) is definitely our most requested location in San Francisco. When we take our newlyweds there for the San Francisco tour, we shoot some of our photos in front by the pond to get the view you see above (right photo). We will also walk around to the back and go inside the Rotunda itself and around the grounds (left photo). There are usually quite a few San Francisco tourists milling about, but we always manage to create most of our beautiful images without people in the background! The Pandemic has drastically reduced the tourist foot traffic at the Palace of Fine Arts as travel is not completely back to normal. We expect this to gradually change as the world recovers and tourist return to San Francisco. It is now June of 2022 and we are already seeing a return to normal.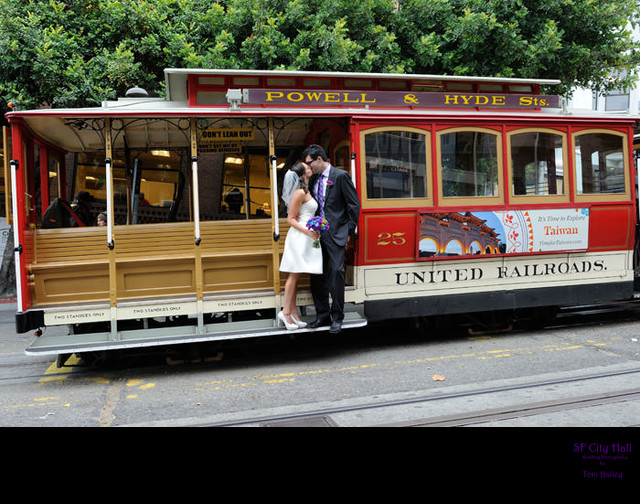 We love taking our newlywed brides and grooms to Ghirardelli Square! There are so many fun things to do there and it becomes more of a walking tour with occasional stops for photographs. As you can see above, it's a great place to get a Cable Car shot, but so much more! Street photography, the water, and the Ghirardelli Square sign are just a few examples of the types of shots we get. We often end the tour by taking the newly married couple to the famous Buena Vista Café for an Irish Coffee. This is optional of course.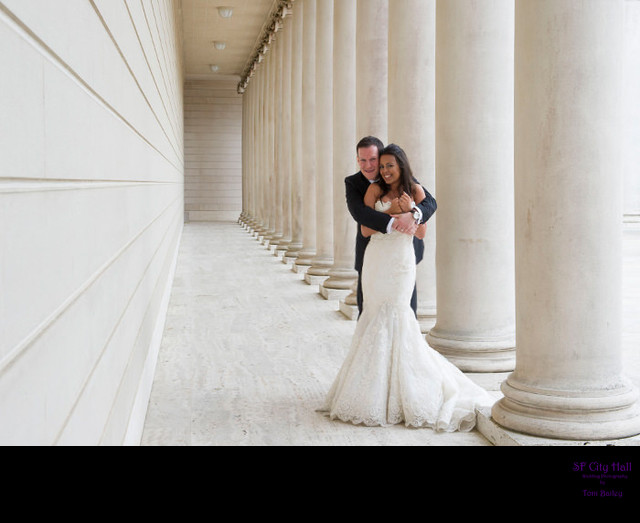 Another popular stop on our San Francisco tour is the Legion of Honor. This amazing location is famous for it's beautiful gray columns (see above). It's a fun place to bring some of your wedding guests for family photos and there is even a view of the Golden Gate bridge right across the street. Not as touristy as some San Francisco locations, it's another favorite! The lighting here is almost always perfect. Its a great place to come if the weather is not so great and rain is threatening since it is partially covered.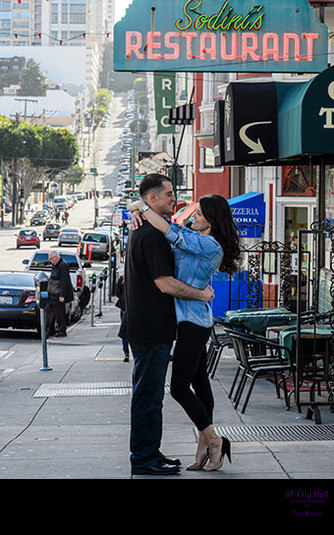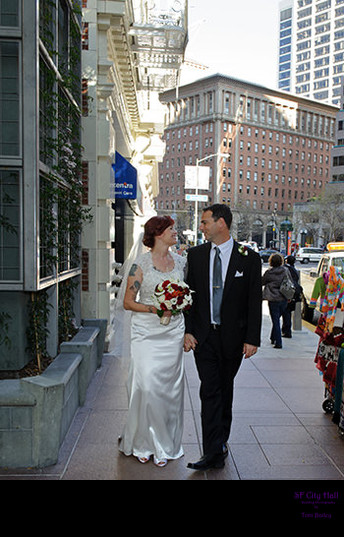 Some of our couples enjoy "Street Photography" in any of the famous San Francisco Districts. The above photo on the left was actually an engagement session before the couple's San Francisco wedding and it was shot in the North Beach area. This neighborhood holds special meaning to Bobby and Jayne because they are both Italian and love spending time here. On the right is a photo from a walk through San Francisco's Financial District. The couple wanted it to look natural with cars and people in the background. These photographs really give you a feel for the city and can be part of the SF Photo Tour after your City Hall Wedding. Come take a walking tour with us in any of San Francisco's famous neighborhoods! After your San Francisco city hall wedding photography session, an outside tour can be the perfect compliment.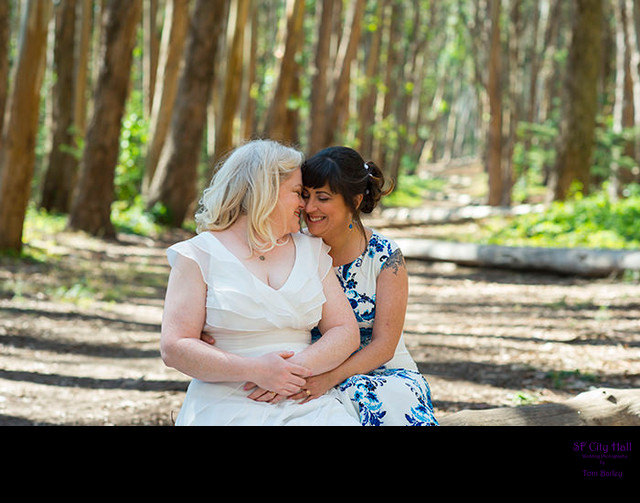 Rachel and Renea had their wedding at San Francisco city hall and booked our 4 hour city tour. Since they were more the outdoors types, they wanted to try out our special Presidio location. This beautiful spot is called "Woodline" and very few people come here so we often have the opportunity to catch a private moment like the one shown above. It is located adjacent to Lovers Lane. Presidio Woodline wedding photos also can also be enjoyed in sepia tone. (shown below). It doesn't say "San Francisco" like some of the other phot tour locations, but it is incredibly beautiful and a favorite spot of many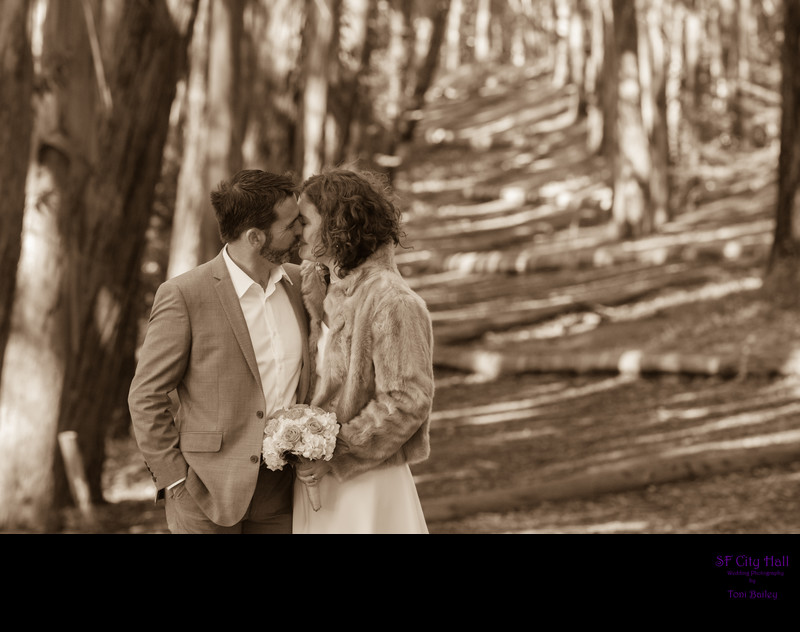 Return to San Francisco City Hall Wedding Photography Home page.