San Francisco City Hall Wedding Photography Styles
We are experienced in a combination of different styles ranging from traditional to photo-journalistic. Our goal is to provide emphasis on the style that best fits our clients. We discuss these options in advance with our San Francisco city hall clients. Then we try to tailor our photographic coverage to their preferences. Some clients prefer a more traditional style with classic and static poses. We can document the essential sequences of the ceremony while carefully arranging the shots so the light angle is optimum, the group shots are balanced, and the background is not cluttered. This provides the most pleasing presentation of your San Francisco city hall pictures in a classis style. Others may want a less structured approach, with lots of candid shots and more interaction. In that case, we might spend more time "shadowing" them as they admire and enjoy the highlights of the architecture throughout the building. Still others prefer a more fun approach. This can entail having our couple walk barefoot on the beach or enjoy a swing at the park. We want to provide a uniquely special experience for each couple. Thus, it is important that we help our brides and grooms feel comfortable with our approach and enjoy their day. Our versatility and experience allow us to do that in a creative and romantic way. We strive to show how you are really as a couple.
San Francisco City Hall Lighting
Everyone talks about the beautiful light at San Francisco City Hall, and we love it too. The third and fourth floors can provide absolutely beautiful window light, which enhances the building's architecture even more. Dramatic leaded glass windows provide a unique backdrop for naturally framed images or creative shots of streaming light. Amazing silhouettes can also be created with these windows as a background. Capturing this light is the best way to enhance the images we create takes practice. We have the experience that comes with our 500+ weddings photographed at San Francisco city hall. We know what time of the day to take our couples to the various parts of the building to best utilize the available light. For those foggy San Francisco days when the light supplied by mother nature is not quite ideal for our photographic needs, we bring in our own professional lighting equipment. Whatever the goal is we can create just the right effect using either our off-camera lighting or bounce flashes. Fortunately, SF City Hall's marble walls are mostly neutral in color and provide us with diffused warm light.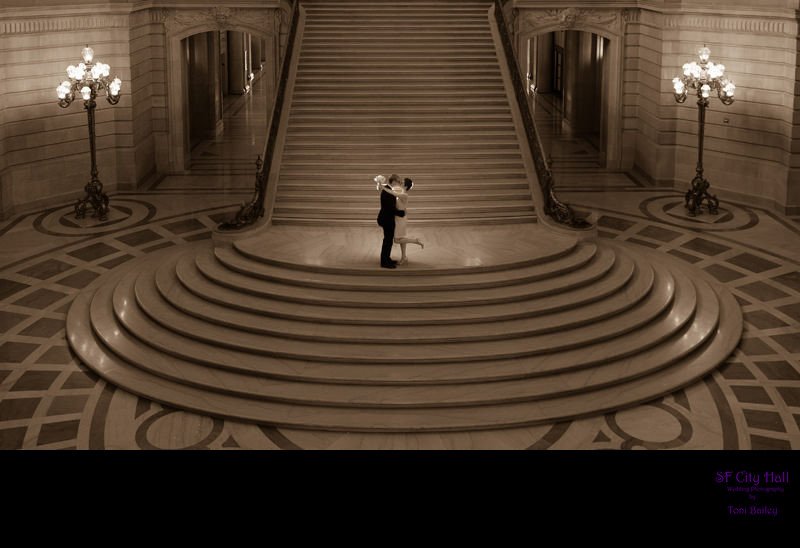 Stairway Kiss at SF City Hall
We asked our couple to pose in front of San Francisco City Hall's Grand Staircase. This is an excellent location to take advantage of the visual impact of using remote lighting. As you can see from the photos above, there is a warm glow behind the couple that was created by a light placed there. It is important not to over do this effect or it can look too staged. We also presented this image in Sepia tone which adds another dimension.

Another style represented below was photographed in the 2nd floor hallway at San Francisco city hall. This is a classic and elegant pose but by asking the couple bend back slightly during their kiss, we created a much more dramatic effect by freeing the Bride's veil to hang naturally. This enabled us to direct our lighting to highlight the individual folds of fabric, as well as exposing the gentle curve of her back lending a more romantic feeling to the overall image.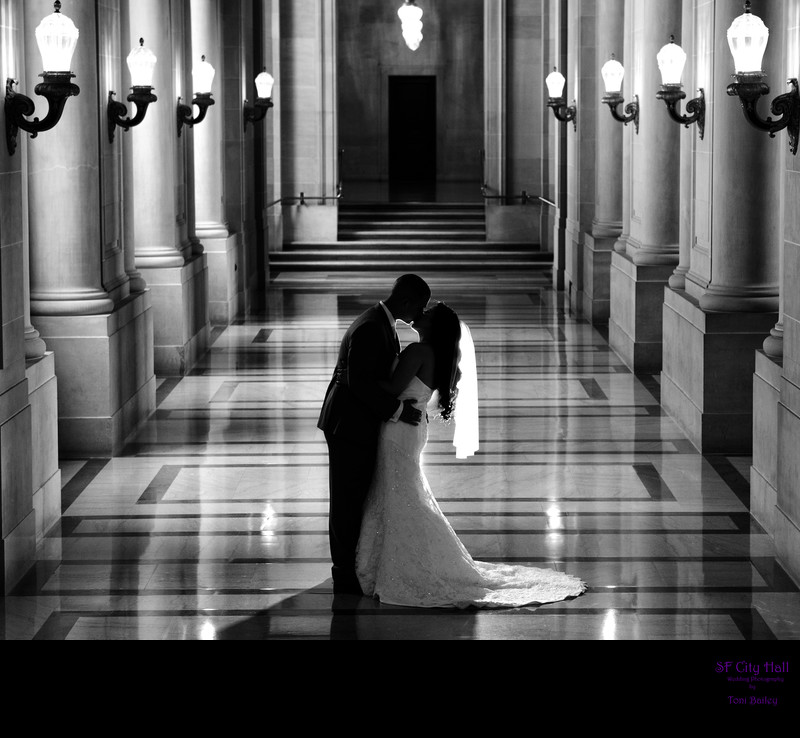 Photography Equipment We Use
Both Mike and Toni shoot with Nikon cameras. We come to every city hall wedding equipped with our Nikon D780, D750, D800e, and mirrorless Z-6. We also bring a variety lenses, and a full range of back-up gear. We believe in using Nikkor and Sigma fast prime lenses for their speed and sharpness. Some of the lenses we most often use include: 20mm/1.8, 24mm/2.8, 35mm/1.4, 50mm 1.4, 85mm/1.4 and a 180mm/2.8. We also use zoom lenses when needed for their versatility and reach. Zooms particularly come in handy during the very short San Francisco city hall wedding ceremony, allowing us to zoom in close for the ring exchange and zoom out for other full length shots.
You are Protected & Your Images are Safe!
Protecting your images and memories is very important to us. We carry a minimum of two cameras and each camera is set up to save images to two separate memory cards. This provides an instant backup to your precious SF City Hall wedding images. We are one of the few San Francisco city hall wedding photographers that carry a one million dollar liability insurance policy. This also allows us to photograph Saturday weddings and certain high end weekday events.
All of your images are backed up both on and off-site (cloud backup storage). In addition, we never erase your Originals from our cards until you have the wedding images in your possession. On and offsite backups are retained indefinitely for your further protection.