FAQ's - San Francisco City Hall Weddings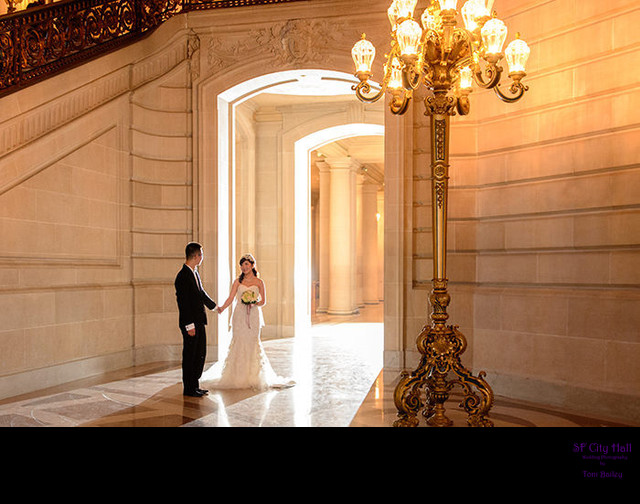 Mike Dubnoff and his team have been wedding photographers for over 15 years, with over 1600 weddings photographed, and an additional
600 at City Hall.
We normally like to meet you before the ceremony by the county clerks office to assist with your check-in and answer any last minute questions. Then we photograph your ceremony, take family photos and then take the two of you around city hall for your photo tour. It seems to work best to do your photos after the ceremony, but we are flexible and will alter our normal process to suit your needs and timing.
No problem! Both our
Enchantment
and
Charm
Packages include comfortable transportation at no additional charge.
Our
City Hall
package is the lowest priced and provides 1 hour of coverage. It's perfect for elopements! This package is for weddings with no guests.
My style is very easy going and I will help you feel comfortable in front of the camera. I do not over pose my couples. Instead, I start with an easy pose, give some suggestions, and then let things flow naturally from there. Please visit our
styles page
for our photography style.
We photograph with Nikon DSLRs and a full set of lenses ranging from 20mm to 200mm. We like to use prime lenses, but also incorporate fast zooms for their speed and flexibility.
We use lighting equipment as well as natural light. When we do use lights at city hall, we keep it very simple. Our lighting equipment consists of a tripod with an umbrella and remote flash.
Your proofs will be ready to view 3 weeks after your wedding day. We will provide a secured password protected private online gallery of your photos for you to view that you can share with friends and family. This site also allows guests to order prints with a credit card.
Direct download or Dropbox, Whichever works best for you!
As soon as I receive your contract and deposit of $350, the date is yours.
Each couple and ceremony varies, there is no exact number. But you will receive as many photos as it takes to tell the story of your San Francisco City Hall Wedding. We can give you approximates for each package if you ask us.
Absolutely! We offer Epoca Albums of the finest quality. Please see our wedding album page.
I often do photograph with an assistant photographer.
Video Chat to the rescue! We can set up a time for a video conference call if you would like. We can also talk over the phone and cover most issues.
Absolutely! Every image that you receive will have been fully edited including exposure correction, white balance and cropping. I work closely with my editing team to make sure that the photos are edited in my style, there are no batch editing processes run. I look over all the photos and make any additional edits that are needed before delivering your photos.
I live in Concord, California. My business is based in San Francisco. I photography wedding throughout the Bay Area including Napa and Livermore. I also travel and absolutely love destination weddings.
In addition to the wedding package, I do charge an additional fee for traveling out of the area. The amount I bill for traveling is very simple. All you are responsible for is the airfare, lodging, and rental car charges. I will bill you directly for reimbursement of these additional costs.
No, I do not provide video services. This is because I am a photographer and not a videographer. Photography is a craft that I need to be focused on for your wedding. Videography requires different equipment and knowledge and will take away from me being able to capture your wedding moments.
When interviewing people, it is a natural occurrence to ask for references. And I can understand why you may ask for references. But I do not provide direct past clientele references. I do not feel comfortable sharing client's confidential information such as their phone numbers or addresses. Or for that matter yours! I suggest you check out my reviews that clients have written. We have over 50 of them on Yelp.
The truth is that I am not sure. There are places in San Francisco that require permits, such as city parks and some beaches. I am more than happy to help you find out if you need one and where to get it. The client is responsible for obtaining the permit. If we do photograph in a location that requires a permit and we get caught without one, it would definitely be a downer if we had to stop shooting and leave.
We deliver photos in black and white and color! You will receive all of your photos in color. Additionally, I will provide select photos in black and white, and some in sepia. If there is a photo that you would like in black and white, just let me know. And if you want all your photos in black and white, I can do that too!
Venmo, PayPal, cash, check, or secured online credit card payment.
Additional Questions?


We are currently updating and adding to our frequently asked question page with new and more detailed information. In the meantime, please feel free to email us with any additional questions about your San Francisco City Hall wedding. We are happy to help you even if you don't book us to be your San Francisco city hall wedding photographers!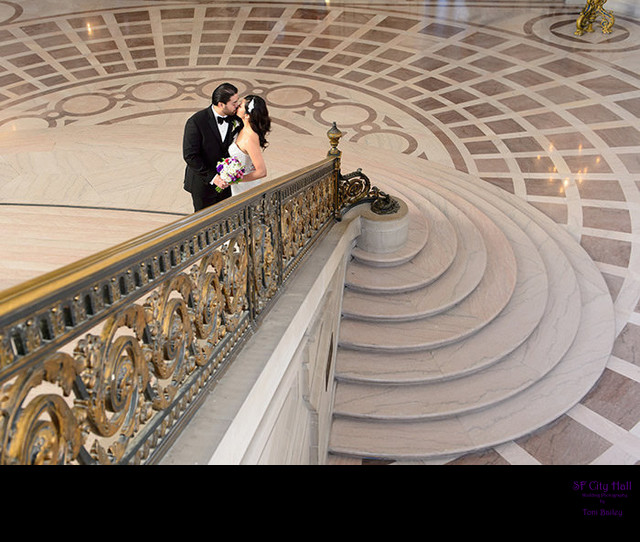 Return HOME