Cable Car Fun After SF City Hall Wedding!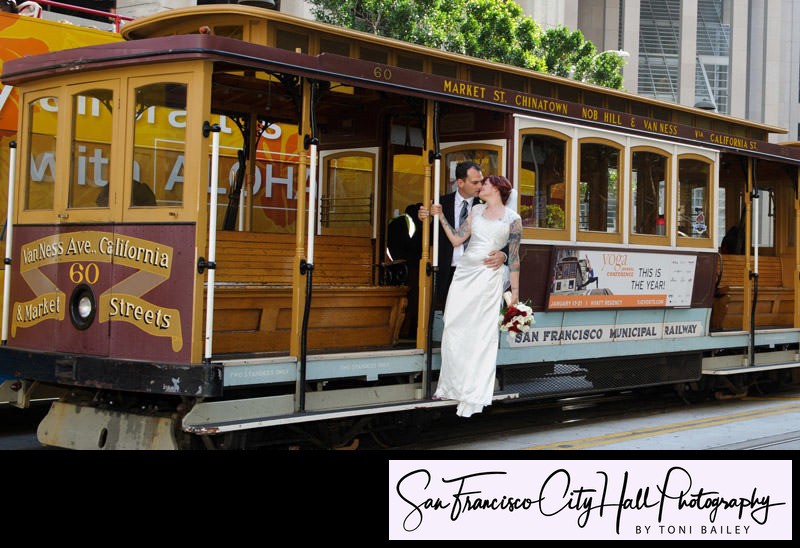 It was so much fun photographing Robyn and Jeff's San Francisco city hall marriage. They had a beautiful civil ceremony surrounded by family and friends and then we toured around the building to capture romantic shots on all 4 SF city hall floors. Once we completed all of our activity at the San Francisco Town Hall, we took a few pictures outside of the building of the bride and groom. Then it was on to California Street where we took a whole series of iconic Cable Car photos. This was one of our first times attempting pictures of our bride and groom at this particular Cable Car location. California Street is quite a bit busier than our other location (Ghirardelli Square), but we were able to pull it off without a hitch.
We Enjoy our San Francisco City Hall Newlyweds
It's hard to imagine a more fantastic setting to top off their wedding day. Thanks to Robyn and Jeff for one of our best times in San Francisco. They had rented a Tesla and took us for a high speed ride down California Street to allow us to capture some great wedding images. Part of the fun of meeting so many couples is sharing in experiences with them in San Francisco. We never know what new experience awaits us with each San Francisco city hall wedding. We have made many friends along the way and continue to stay in touch with many of our past brides and grooms.
Wedding Photography Rule Changes
Their wedding was early on in our San Francisco city hall wedding photography career. Back in 2012 the photo just below was one of our favorites and very popular with our newlyweds. Unfortunately, standing in the window is no longer permitted under San Francisco City Hall's guidelines. We certainly understand that building preservation and safety are important and so we adhere to the rules. We can still provide you with a similar image standing in front of this gorgeous window.
NOTE: We are very sad to report that Robyn lost her battle with a long term illness just recently. We offer our condolences to Jeff and their whole family for this devastating loss. Robyn stayed very positive and Jeff has many great memories.