San Francisco City Hall Photography Lighting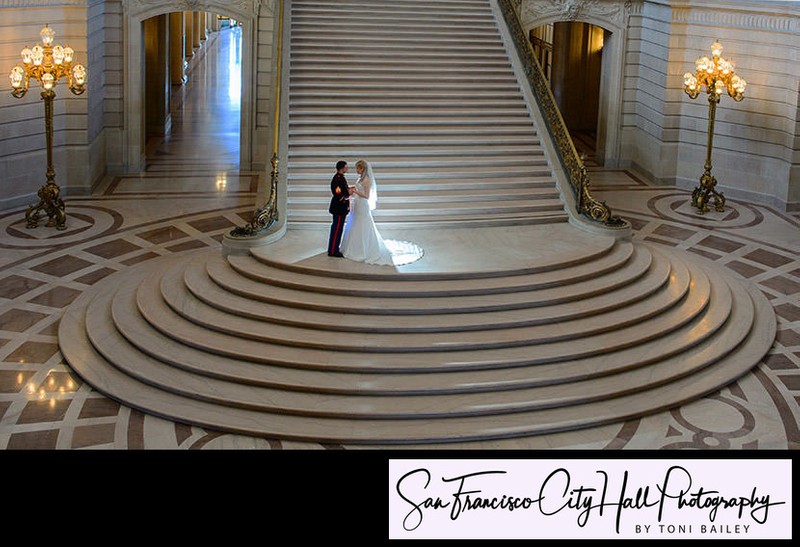 The grand staircase is a beautiful wedding photography location in the late afternoon, especially if there aren't too many people milling around. To add to the drama of this shot, we back-lit Laura and Robert with a remote speed light that is controlled by a radio trigger. Notice the natural golden highlights on the stairs themselves. The staircase at City Hall is probably one of the top indoor locations for wedding photography in San Francisco. Professional photographers from all over California come here to photograph models, family portraits and Quienceaneras.
Using Professional Off-Camera Lighting
The same bride from the photos above is pictured below in front of city hall's 3rd floor window. She is mostly illuminated by beautiful natural light, but we also used our off camera light to fill in any shadows or imperfections. An umbrella flash is what we used to enhance this image. There is no doubt that San Francisco city hall wedding photographers that employ professional lighting can obtain superior results here. Fantastic photos with purely natural light are also possible, but there are few locations in city hall where this does not work so well. If you were to place your couple at the base of the Grand Staircase, you will find that the lighting is mostly overhead. Professional wedding photographers understand that overhead lighting is not complimentary. It often results in "raccoon eyes" and ugly chin shadows in the final wedding images. Care should be taken when using Natural Light, because contrary to what you may hear, it is not always better. I am personally a big fan of natural light photography, but I also know when to use it and when not to. We bring Professional off-camera lighting to every San Francisco city hall wedding to make sure our newlyweds receive the best possible results regardless of the light available that day from the windows.