Pier 7 Wedding Photography after SF City Hall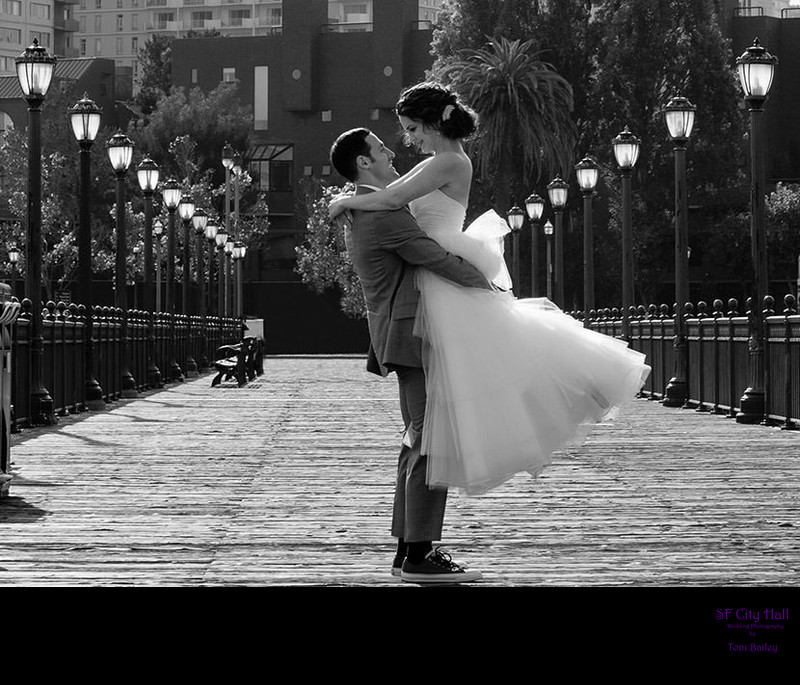 Sara and Pete took advantage of our extended San Francisco City Hall photography package and booked us for a full day wedding shoot. We started at San Francisco City Hall for a rare Saturday wedding and ended up on a Horn Blower yacht, cruising around the SF Bay. Pictured here at Pier 7 before boarding the party boat, Sara and Pete were a fun couple and were up for anything we suggested. When photographing weddings in the San Francisco downtown area you often have to be patient and wait for the right moment when less people are present in the background. Photoshop is sometimes needed at this very popular area.
San Francisco "Forever" Wedding Package
This couple decide to book our Full-Day coverage package for their San Francisco city hall Saturday wedding package. Saturday weddings at city hall are a bit different. For one thing, the building is closed to the public on the weekends so photographers do not face the usual challenges of working around other Newlywed couples and tourists. The only issue is that you do not always have access to the entire building due to security concerns. You can sometimes request access to the 3rd and 4th floors if you make a special request to the San Francisco city hall events staff. We would be happy to help you with that if you so desire. We know a number of event staff people and have good relationships with them.