San Francisco Wedding Photography Tour
Our "San Francisco" City Hall wedding photography package is 4 hours of coverage and an exciting tour of SF. This tour takes place after we cover your San Francisco city hall civil ceremony and building photos. About 1.5 of the 4 hours of photographic coverage takes place within SF City Hall. Once complete we take you to any of your 3 selected San Francisco destinations. The photo below is an example of the types of photos we like to shoot when we take our couple out on the town! We will visit the Golden Gate Bridge, Palace of Fine Arts, The Legion of Honor, Russian Hill, Coit Tower or the Japanese Tea Gardens to name just a few. We even supply your transportation and can suggest some of our favorite spots if you aren't sure! The example below was captured at the Legion of Honor which remains one of our favorite photo locations. We love the lighting here and it is protected from the harsh sun or rainy skys.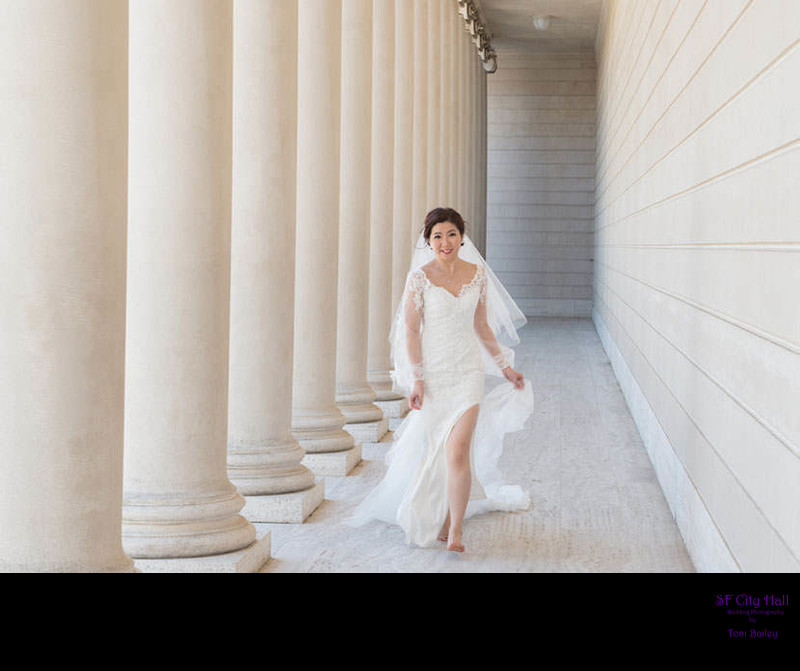 We loved Phoebe's wedding dress and decided it would look great to have her run through the halls of the Legion of Honor. Certain styles of wedding gowns move nicely when the bride runs or spins. We like to take advantage of this beauty whenever possible. Phoebe preferred to take off her shoes and this enhanced the effect of the picture and her movement. We always try to provide each of our bridal celebrants with their own unique images. Obviously, we receive lots of requests for many of the classic poses and locations that are seen on our web page, but it's also important to make every bride and groom's wedding pictures special. Providing each newlywed with something completely different is our goal for each San Francisco wedding photography session. We are also quick to ask our clients if they have any preferences for locations and poses at San Francisco City Hall or anywhere else.